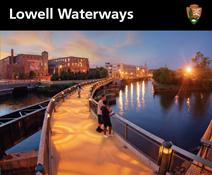 Lowell Waterways
Nearly 200 years ago, Lowell's groundbreaking canal system transformed the landscape and powered the city's new textile mills. Of the nearly six miles of canals dug to provide waterpower, almost all remain intact and functional. The survival of this historic power system was one of the key factors in the successful creation of Lowell National Historical Park in 1978. Today, this network of waterways has reemerged as a defining feature of contemporary life in downtown Lowell.
Working with federal, state, and local government programs, Lowell National Historical Park and its partners have reimagined, restored, rehabilitated, and rebuilt the walkways along the canals and by the Merrimack River. New paving and landscaping has been installed, invasive vegetation has been removed, fencing and benches have been repaired, deteriorating structures have been removed or replaced, and lighting has been improved. These and many other upgrades have transformed the paths along Lowell's waterways into unique urban trails for education and recreation alike.
Get a new perspective on Lowell by exploring the Canalways and Riverwalk. Maybe get four new perspectives- explore Lowell's past and present with the four themed walking tours below. Get outside and connect with Lowell's evolving stories of immigration, technology, environmental change, and preservation.