Guided Tours & Programs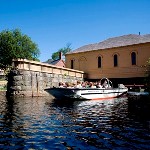 Canal Boat Tours have concluded for the 2014 season, but will return on Memorial Day weekend, 2015. The park offers free trolley tours on Saturdays & Sundays through the weekend before Thanksgiving (see below for more details).
Lowell National Historical Park offers a wide variety of tours and programs throughout the year. Spaces for tours, especially for boat tours, are limited and reservations are suggested. To make a reservation, call (978) 970-5000.
Trolley tours and walking tours are offered free of charge. Boat tours are $8 for adults, $7 for seniors (62+), $6 for students and youths (age 6-16), and free for children 5 and under.

For boat tours, visitors should arrive at the Visitor Center at 246 Market Street, Lowell, at least 15 minutes before tour start time to purchase their tickets. For trolley and walking tours, visitors should arrive at the Visitor Center about ten minutes before tour start time.
Boat tours are on an open-topped boat, and the tours run rain or shine. For the best tour experience, plan for the weather and be sure to have sunscreen, a hat or other head covering, and plenty of water with you. The specific route for boat tours may change due to the weather or to changing levels of water in the river or the canals. Occasionally, tours may be cancelled due to the weather or water levels. If you have any questions about your tour, please call the park at (978) 970-5000.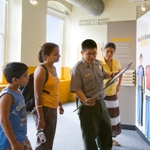 Ranger Talks
Explore the breadth and depth of Lowell's history with a brief ranger presentation at one of our historic locations. Topics change daily and could range from labor strikes to turbine technology to the impact of industrialization on the environment. Talks are 10-15 minutes, with time for questions following the talk.
Boott Mills Museum Second Floor. Please see ranger for more details. (Free with Admission).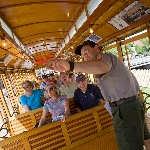 Controlling Nature Trolley Tour
Discover the diversity and variety of Lowell's stories. Find out about the famous Mill Girls, the technology that powered the mills, the ways that immigrants have contributed to the industrial city, and how all of these have shaped both the city's past and its present.
Seasonal - Weekends Only 2:30pm 75 minutes. Free. Meets at the Visitor Center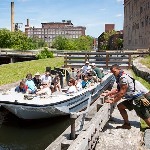 Working the Water Boat Tour
Who dug the canals? Who laid the stone walls? Who operated the locks and gates? Discover the human stories of the workers who built and operated Lowell's remarkable waterpower system. Find out who is still "working the water" today.
Canal Tours will return Memorial Day Weekend, 2015!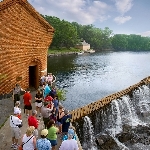 Engineering Innovation Boat Tour
Lowell was the Silicon Valley of the early 19th century-a center of innovation, invention, and technology. Learn about the experiments, feats of engineering, and creative problem solving that made Lowell successful. Discover the spirit of innovation that continues to shape the city today.
Canal Tours will return Memorial Day Weekend, 2015!