Trolleys Out of Service until Saturday August 23

Due to repair work, the trolleys will not be running until Saturday, August 23. Daily boat tours will still be running, with a 1/4 mile walk from the visitor center. The 2:30 trolley tour will be offered as a walking tour. More info at 978-970-5000.
Lowell NHP Superintendents Compendium upate.

The Superintendents Compendium has been updated in regard to the use of unmanned aircraft in national park areas. More »
Guided Tours & Programs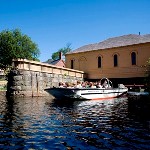 Lowell National Historical Park offers a wide variety of tours and programs throughout the year. Spaces for tours, especially for boat tours, are limited and reservations are suggested. To make a reservation, call (978) 970-5000.
Trolley tours and walking tours are offered free of charge. Boat tours are $8 for adults, $7 for seniors (62+), $6 for students and youths (age 6-16), and free for children 5 and under.

For boat tours, visitors should arrive at the Visitor Center at 246 Market Street, Lowell, at least 15 minutes before tour start time to purchase their tickets. For trolley and walking tours, visitors should arrive at the Visitor Center about ten minutes before tour start time.
Boat tours are on an open-topped boat, and the tours run rain or shine. For the best tour experience, plan for the weather and be sure to have sunscreen, a hat or other head covering, and plenty of water with you. The specific route for boat tours may change due to the weather or to changing levels of water in the river or the canals. Occasionally, tours may be cancelled due to the weather or water levels. If you have any questions about your tour, please call the park at (978) 970-5000.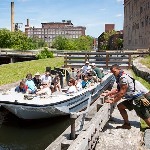 Working the Water Boat Tour
Who dug the canals? Who laid the stone walls? Who operated the locks and gates? Discover the human stories of the workers who built and operated Lowell's remarkable waterpower system. Find out who is still "working the water" today.
Seasonal - Daily 11:00am, 2:00pm & 3:00pm. June 14-September 1, 2014. 90 Minutes. Tour locks through at Guard Locks and travels out to the Merrimack River.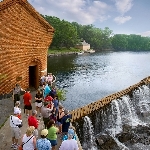 Engineering Innovation Boat Tour
Lowell was the Silicon Valley of the early 19th century-a center of innovation, invention, and technology. Learn about the experiments, feats of engineering, and creative problem solving that made Lowell successful. Discover the spirit of innovation that continues to shape the city today.
Seasonal - Daily 12:00PM. June 14-September 1, 2014. Two hours.Tour locks through at Guard Locks, travels to the Merrimack River and includes a short walk to the Pawtucket Gatehouse.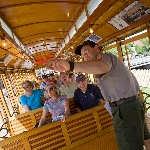 Controlling Nature Trolley Tour
Discover the diversity and variety of Lowell's stories. Find out about the famous Mill Girls, the technology that powered the mills, the ways that immigrants have contributed to the industrial city, and how all of these have shaped both the city's past and its present.
Seasonal - Daily 2:30pm. June 14-September 1, 2014. 90 minutes. Free. Meets at the Visitor Center.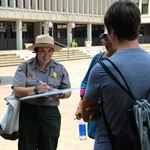 Moving Conversations Guided Walk
Who is an American? Join us for an interactive neighborhood tour exploring immigration and identity in Lowell. Recommended for ages 12 and up.
Seasonal - Daily 1:00pm June 14 - September 1, 2014. 60 minutes. Free. Meets at the Visitor Center.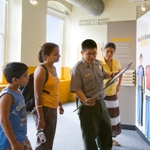 Ranger Talks
Explore the breadth and depth of Lowell's history with a brief ranger presentation at one of our historic locations. Topics change daily and could range from labor strikes to turbine technology to the impact of industrialization on the environment. Talks are 10-15 minutes, with time for questions following the talk.
Boott Mills Museum Second Floor. Please see ranger for more details. (Free with Admission).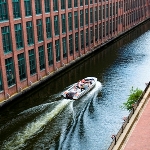 Transforming Landscapes Boat Tour
Explore Lowell's canal system and understand how it helped transform a rural farming village into a busy urban industrial center. Travel along the old Pawtucket Canal and trace the changes along its banks over the last two hundred years. Discover how Lowell's industrial landscape is still evolving today.
Seasonal- COMING SOON. 90 Minutes. Tour visits Guard Locks (with a short walk to explore the locks), and locks through the double lock chamber at Swamp Locks, with a trolley ride to or from Lower Locks.


2014 Summer Lowell Offering

The Lowell Offering is the park's quarterly newspaper, which contains information about the latest programs and happenings at the park. Read More

Hours of Operation

Summer 2014 Hours of Operation at Lowell National Historical Park. Read More

Official Park Facebook Page

Visit Lowell NHP on Facebook Read More
Did You Know?

The Boyden Observatory of Bloemfontein, South Africa owes its existence to Uriah Boyden who left over $200,000 at his death in 1879. Mr. Boyden, an inventor, patented an outward flow turbine. He sold it to the Appleton Mills in Lowell, MA where he worked, home of Lowell National Historical Park.