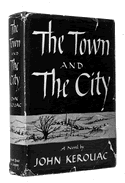 National Park Service
In the late 1950s American readers heard an exuberant new voice. Jack Kerouac (1922-1969) wrote a spontaneous, sometimes raw prose that captured the immediacy of experience. Born of French-Canadian parents in the Centralville area of Lowell, Jean-Louis Kerouac grew up immersed in the city's ethnic, working-class culture. He is best known for his "road" books, such as Visions of Cody, Dharma Bums, and especially On the Road, which chronicle his restless travels. Through them he became spokesman for what he called the "Beat Generation."
Kerouac also wrote five books largely set in Lowell, notably The Town and the City, in which he calls his hometown "Galloway": The Merrimac River, broad and placid, flows down to it from the New Hampshire hills, broken at the falls to make frothy havoc on the rocks ... The grownups of Galloway ... work- in factories, in shops and stores and offices, and on the terms all around. The textile factories built in brick, primly towered, solid, are ranged along the river and the canals, and all night the industries hum and shuttle. This is Galloway, milltown in the middle of fields and forests.
The film by Henry Ferrini, Lowell Blues, is offered daily in the park Visitor Center at 4:00 p.m.