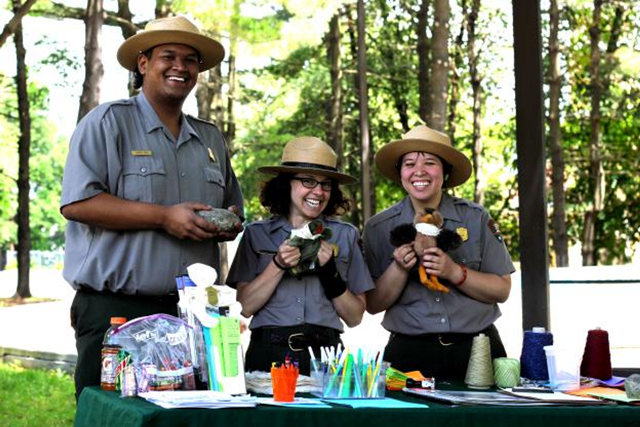 NPS/Julian Rojas
Come hang out with park rangers, get creative, and explore your city's stories! This summer, Lowell National Historical Park invites families to Your City Saturday, a regular series of free intergenerational activities. Each Saturday from September 13 - October 25, come to the Visitor Center from 10AM-11AM for creative activities exploring themes important to Lowell's past and present:
Your City Summer Dates:

Where: The Visitor Center, 246 Market Street. The Visitor Center also offers information about many other park offerings and cultural attractions in Lowell.

Although Your City Satruday programs are offered on a free, drop-in basis, families should arrive by 10AM and plan to participate for the complete hour.

Your City Saturday is part of a year-round series of family programs that includes Your City Summers (June-August), Lowell Kids Week (February school vacation), and April PLAY-cation (April school vacation). These programs aim to inspire creativity in the next generation of National Park stewards, and to engage families in hands-on investigations of Lowell's unique stories, past, present, and future. Lowell played an important role as the country's first major planned industrial center in the 1820s, and continues to reflect cycles of creativity, industry, immigration, and innovative urban planning.

While you're downtown, make a day of it! Family-friendly activities at Lowell National Historical Park include canal boat tours, museum demonstrations, Lowell Summer Music Series kids' concerts, and trolley rides.

Your City Saturday is part of Lowell National Historical Park's kids' and families' programming planned for 2014. For more information, contact Emily Levine at (978) 275-1780 or at emily_levine@nps.gov. For more information about Lowell National Historical Park visit www.nps.gov/lowe or call 978-970-5000.