Internships and Work-Study Positions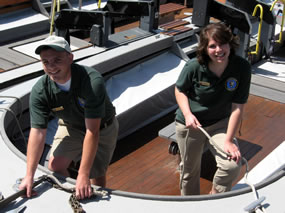 Exciting Internships at Lowell National Historical Park
Work that contributes to a student's academic program and future career plans may be found here at the park in the following areas:
Youth non-school summer programs for middle and high school students
Planning and production of Lowell Summer Music Series and the Lowell Folk Festival
Museum education programs at Tsongas Industrial History Center
Interpretation and visitor services at exhibit sites and on guided tours
Historic trolley interpretation and related museum operation
Curatorial program, including artifact collection management and exhibit design
Historical research
Oral history
Grant-writing/fundraising for partnership programs
Public affairs and marketing Community outreach programs
Volunteer program management
Architecture, historic preservation, and cultural resources management
Park administration, planning, and management
Landscape architecture
Facility and park maintenance management
Video and audio-visual program production
The park will work with a candidate to customize an internship or practicum that achieves the student's goals, as well as fitting the park's needs and capabilities. Interdisciplinary programs can be designed to gain experience in more than one professional field. Candidates will apply by submitting a letter of application and a resume. They will be interviewed and evaluated for acceptance into the program. The availability of opportunities in the individual disciplines will vary according to staffing levels and workloads in the park. Stipends from the park are usually not available in this program. For further information or to begin the application process, call Park Volunteer Office at 978-275-1740 or contact us.