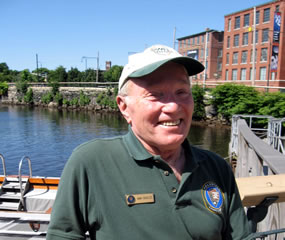 National Park Service
Like so many of our volunteers, Hank Knoblock has many impressive accomplishments on a resume that would be the envy of most people. He grew up in Queens, New York, graduated from Villanova University and then gained a commission in the USMC, serving in Japan and Okinawa. Hank and his wife of many years have six children who are following in the footsteps of their parents as active and interesting people. With a BS in Economics, Hank's business career brought them to Massachusetts in 1976 and then, after retirement, to Tewksbury four years ago. Hank and Peggy have taken several courses through the Elderhostel Program and one of these sparked an interest in the history of the Textile Industry, specifically about the experiences of the Yankee farm girls who moved to Lowell in the early 1800s. After visiting both the Park and the American Textile History Museum, we were lucky enough to have Hank volunteer his time with us, and, as Hank says, "the rest is history".
As a volunteer at the Visitor's Center, Hank has a wide variety of responsibilities in greeting our guests, giving out information about happenings in the Park, introducing our free slide show, and answering the sometimes unexpected questions we get at the VC. Always aware that we are the face of the Park, Hank keeps a great attitude and sense of humor about himself. In a much quieter setting, Hank has also volunteered at our Boott Cotton Mill Museum, available to answer questions and watch over our exhibits as guests take their time to view and absorb the length of a huge cotton mill built in 1836. And finally, as a First Mate on our canal tours, Hank takes very seriously the added responsibility of a safe cruise for all.
During Hank's time away from the Park, he and Peggy both volunteer at their Public Library. With his knowledge of computers, he is currently transferring data from old newspaper obituaries, birth, death, and marriage records for genealogical research. As you can see, we are very fortunate to have Hank as part of our family here at Lowell National Historical Park.