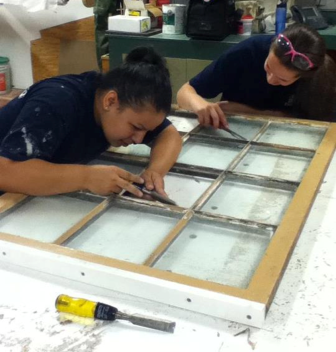 NPS
Trades Skills Program
Interns from local technical schools partner with LNHP maintenance employees in the painting, carpentry and electrical fields to develop skills in their chosen trades while working on historic preservation projects.
Vocational students from the Greater Lowell Regional Vocational Technical High School and Minute Man Regional Technical School participate in a job skills training program working on historic preservation projects in the park to develop skilled trades experience in carpentry, painting, electrical and HVAC.The students work alongside NPS skilled maintenance staff and receive additional training and development opportunities through exposure to NPS historic preservation and cultural resource management practices.
Trades Skills interns work on several park projects including painting railings throughout the park, the interior of the Kirk Street Agents House and the windows of the Mill Girls and Immigrants Exhibit. Trades Skills intern John Kheoloung helped install a transformer for the new kitchen in the Boott Cotton Mills Museum. John, an electrical journeyman, assisted park electricians Charlie Raye, Bob Moretti and Rich Hansen in the installation. The project involved cutting and bending the conduit, pulling wires through historic resources of the Boott Cotton Mills Museum weave room and installing the 480 volt transformer and the box to bring the power from its entry on one side of the building to the other. Bob explained that this is an opportunity for John to participate in a project that is not common, so he is gaining valuable experience.
The Trades Skills Program received the Lowell NHP 2014 Community Award for Student Excellence in Historic Preservation.Stacy Bezanson, the GLTHS Cooperative Education Director, Dan Hamel, Construction Cluster Technology Chairperson and Tim Duby, Painting and DesignInstructor, attended the park annual reception and shared how coveted the NPS coop positions are for the GLTHS students in painting, carpentry and electrical.