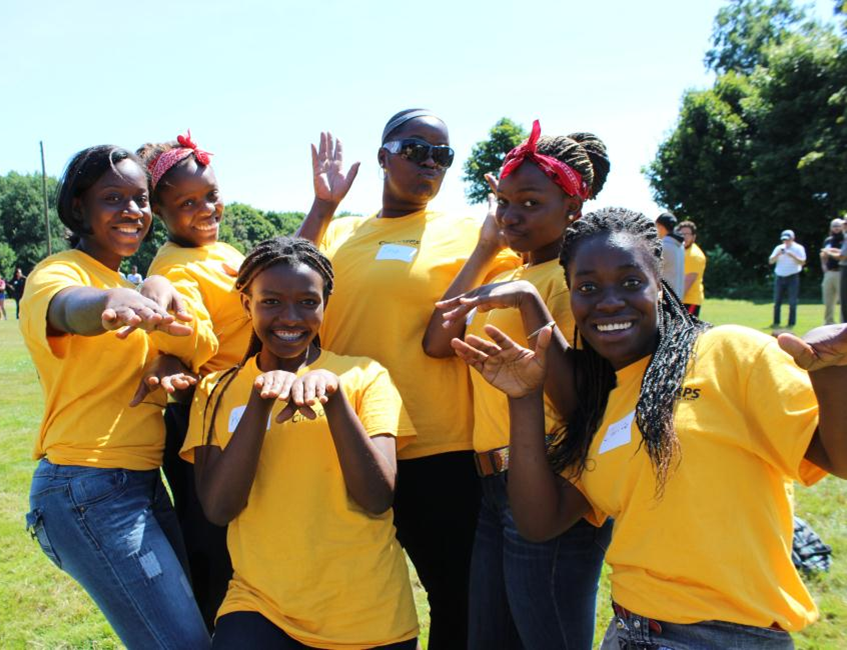 NPS/Andy Pearson
The Lowell Spindle City Corps: Service, Diversity, and Education
Working in partnership with Community Teamwork, Inc., Lowell National Historical Park offers opportunities for local high school youth to participate in the Trades Skills, Summer Maintenance and Youth Theater programs. Youth participating in the programs in 2014 attended and presented at the Mass Parks Youth Summit held on Thompson Island in the Boston Harbor Islands on August 14th joined by 180 youth and leaders in employment programs in the Boston area. The local SCC graduation ceremony featured foods prepared by youth and leaders representing their cultures, the premiere of the SCC 2014 video created by youth at Lowell Telecommunications and awards presented to the youth and leaders.
The Spindle City Corps will be returning in 2015. Check back for updates in the Spring of 2015. If you're interested in Spindle City Corps, please contact Youth Programs Coordinator Amy Glowacki at (978) 970-5024, or send a message through this quick contact form.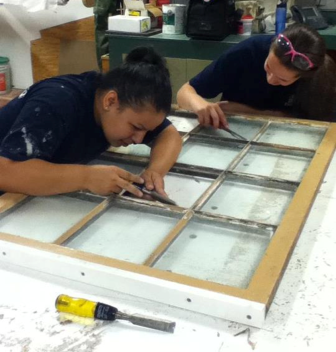 NPS
Trades Skills Program
Interns from local technical schools partner with LNHP maintenance employees in the painting, carpentry and electrical fields to develop skills in their chosen trades while working on historic preservation projects.
Vocational students from the Greater Lowell Regional Vocational Technical High School and Minute Man Regional Technical School participate in a job skills training program working on historic preservation projects in the park to develop skilled trades experience in carpentry, painting, electrical and HVAC.The students work alongside NPS skilled maintenance staff and receive additional training and development opportunities through exposure to NPS historic preservation and cultural resource management practices.
Trades Skills interns work on several park projects including painting railings throughout the park, the interior of the Kirk Street Agents House and the windows of the Mill Girls and Immigrants Exhibit. Trades Skills intern John Kheoloung helped install a transformer for the new kitchen in the Boott Cotton Mills Museum. John, an electrical journeyman, assisted park electricians Charlie Raye, Bob Moretti and Rich Hansen in the installation. The project involved cutting and bending the conduit, pulling wires through historic resources of the Boott Cotton Mills Museum weave room and installing the 480 volt transformer and the box to bring the power from its entry on one side of the building to the other. Bob explained that this is an opportunity for John to participate in a project that is not common, so he is gaining valuable experience.
The Trades Skills Program received the Lowell NHP 2014 Community Award for Student Excellence in Historic Preservation.Stacy Bezanson, the GLTHS Cooperative Education Director, Dan Hamel, Construction Cluster Technology Chairperson and Tim Duby, Painting and DesignInstructor, attended the park annual reception and shared how coveted the NPS coop positions are for the GLTHS students in painting, carpentry and electrical.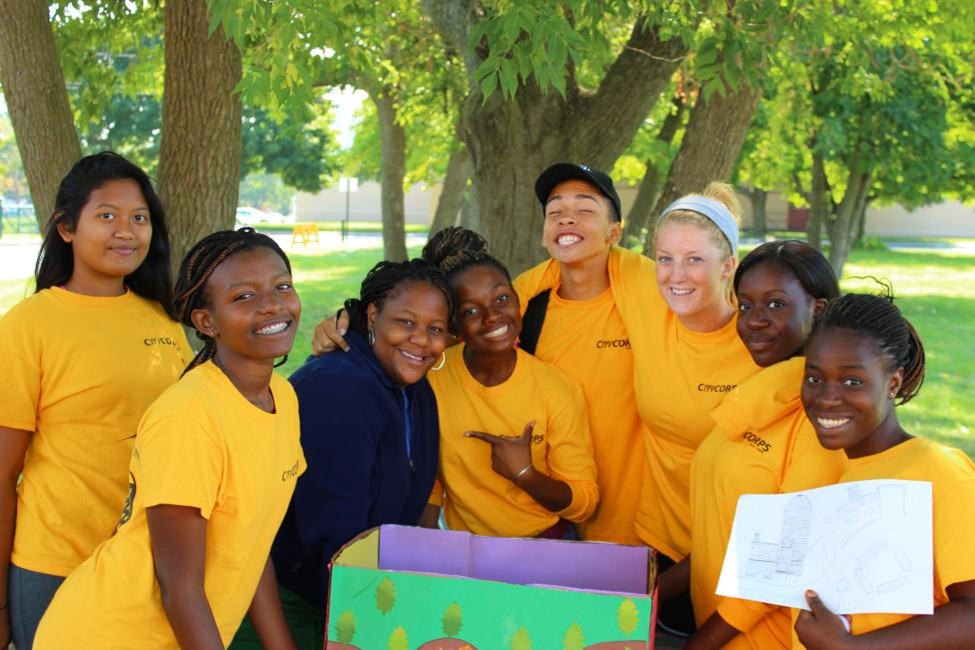 NPS/Andy Pearson
Summer Maintenance Program
SCC maintenance team members, dressed in the recognizable goldenrod t-shirts, paint fences along Dutton Street, cut weeds, remove brush, washed windows, and mulch sites throughout LNHP. LNHP staff depend on assistance from SCC members to set up and break down for the Lowell Folk Festival. SCC members provide approximately 1,000 hours of work towards festival prep and take down.Of note, they fill and delivered 600 hundred sand bags for the 2014 festival.SCC members donated 163 hours of additional volunteer time during the festival weekend.
The youth participate in the Appalachian Mountain Club Youth Opportunities Program. As members of the Lowell –Lawrence Summit Program the SCC youth benefit with overnight canoeing and camping trips at Harold Parker State Forest in Andover, MA.YOP provides all of the equipment, training for its use and staff assistance.
The summer maintenance team assisted with a trail management project with the Lowell Parks and Conservation Trust and Mass Audubon. During this project they interacted with land stewards, learned about local wildlife, monitored eel traps on the Merrimack River and met with Representative Nikki Tsongas to share their experiences. Five youth attended a three-day financial literacy seminar hosted by Community Teamwork, Inc.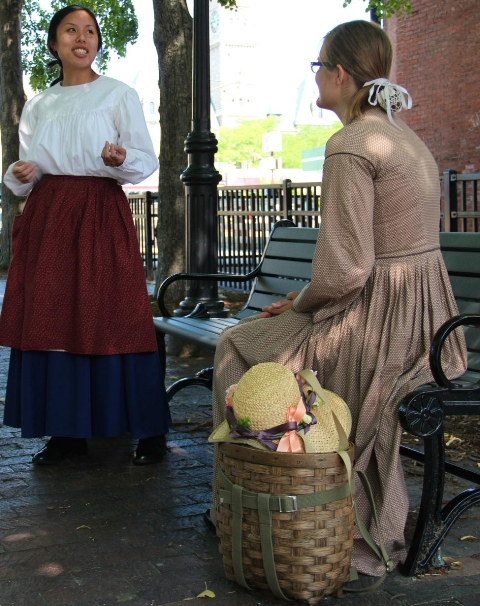 NPS/Jen Myers
Youth Theater Program
During the summer of 2014 local high school and college students helped bring the stories of Lowell's past and present to life. Members researched, wrote and presented their own original vignettes.These short scenes included dialogue designed to engage park visitors in topics focusing on Lowell experiences, both past and present, such as life in the city, immigration, challenges and opportunities, and life as a teenager.The local youth were challenged to develop provocative historical and contemporary comparisons between youth experiences within the context of Lowell historically, as well as the rich cultural and ethnic diversity of Lowell today.
One of the many facets of the urban cultural park envisioned by Park founders is that Lowell National Historical Park reflects a "living laboratory" dedicated to exploring the social, cultural and economic lives of the people of Lowell.These students created pieces highlighting the long and varied history of Lowell. The scenes investigated the lives of Lowell citizens in the 19th, 20th, and 21st century.
Throughout the summer these young men and women grew as historians, researchers, interpreters and performers.For many of them this program was their first exposer to acting.Yet they quickly took on the challenge and performed before crowds throughout Lowell National Historical Park.By the end of the summer these students had developed skills that would aid them in the professional world, while engaging in meaningful dialogue and creating special memories for over 1,300 visitors to Lowell.