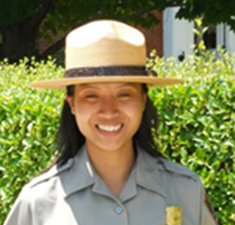 Saoran Roeuth
Administrative Support Assistant
Career Appointment
Lowell National Historical Park
"I've always wanted to work in the Park Service. SCIP reinforced it – definitely. This program works – I'm proof of that. I am the result of this program. You cango from a youth program to permanent employee in the National Park Service."
Saoran is the first SCIP intern to become a permanent employee in the National Park Service. Saoran works in administration as part of the Business Center at Lowell.
A graduate of Lowell High School, the University of Massachusetts, Lowell, and Middlesex Community College she is fluent in Khmer and is a member of Beta Gamma Sigma, the international honor society for excellence in business studies. Saoran has worked with Lowell National Historical Park in the unique position as a GS-025-01 park aide. Hired in 2007 she was one of the first students hired in this position not only to gain experience working at park sites, but to conduct boat tours and play traditional Cambodian games at the annual Southeast Asian Water Festival. A natural leader, Saoran served as a youth facilitator for the UMass Lowell Center for Family, Work and Community River Ambassador Program from 2005 through 2007. Working with 15 Lowell High youths interested in educating the community about the environment, Saoran assisted the program coordinator, planned and conducted weekly meetings, and organized trips and activities.