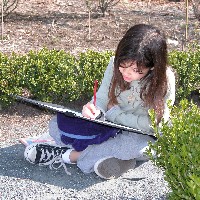 Be a Junior Ranger
There are two fun ways to become a Junior Ranger at Longfellow House - Washington's Headquarters National Historic Site.
1. If you're visiting while the site is open (late-May through late-October), stop at the park Visitor Center and pick up a Junior Ranger booklet, clipboard, and pencil. We offer two booklets, a LOOK & FIND version for 5-8 year-olds and a THINK & REASON version for 9-12 year-olds. Choose the booklet that is right for you, complete the activities by attending a tour and exploring the landscape, and you'll be read to take the Junior Ranger pledge!
2. If the site is not open, or if you'd like to stretch your legs a bit, we now offer a walking tour Junior Ranger booklet for 10-16 year-olds that will take you on a short exploration of the house and its surrounding neighborhood. See what old Cambridge was like in the days leading up to the American Revolution in THE ROAD TO REVOLUTION. You can pick up a copy at the Visitor Center or download a copy to print at home right here.

Be a WebRanger
Kids! Learn about National Parks by becoming a WebRanger. As a WebRanger, you will travel to parks all over the country through the world wide web. Your job is to have fun while learning about YOUR National Parks and the things YOU can do to care for them. Solve mysteries and puzzles, play games, take part in stories, and gather secret words. Become a WebRanger! Click here to begin your adventure.