Longfellow House - Washington's Headquarters National Historic Site has a large museum collection consisting of thousands of objects, many of which are not regularly displayed in the house's furnished exhibit rooms. Every month, an object will be featured on this page, providing a look at an unusual piece from the collection.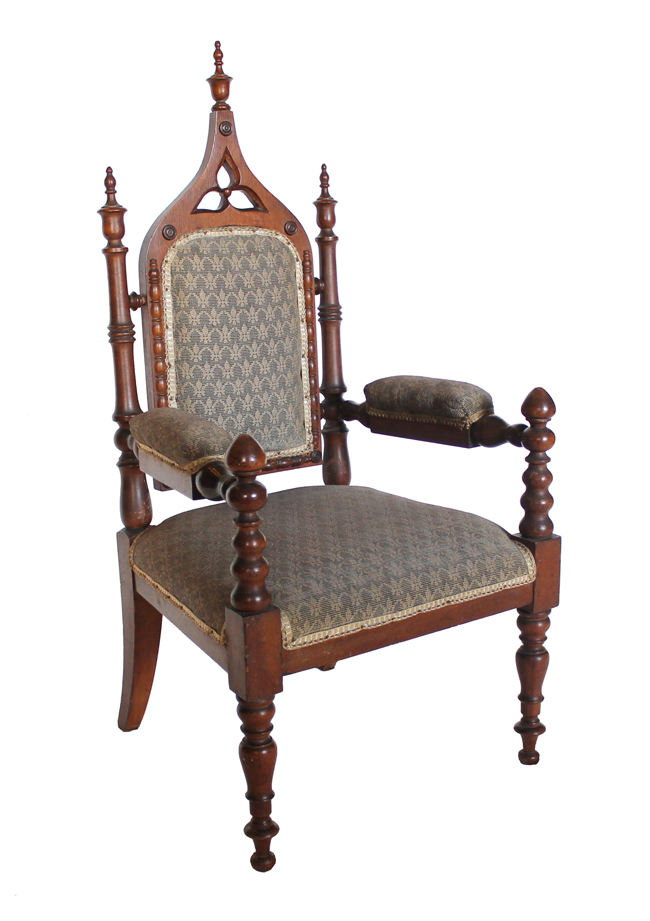 Tucked into a nook in a small antechamber between the dining room and the parlor is this child's size Gothic Revival chair. The Gothic Revival movement started in 18th century England, and drew on medieval gothic architectural styles for inspiration. Gothic Revival pieces, whether they be furniture, buildings or some other piece, often include design elements such as finials, scrolled ornaments, scalloping, and other features often seen on gothic cathedrals. By the mid-19th century the style had become popular in the United States.
This small chair, just over ten inches high at the seat and about thirty inches high overall, incorporates many elements of gothic style. Its finials, cathedral-style back with a variation of the gothic trefoil design carved in it, and the overall throne-like styling all firmly identify the piece as a Gothic Revival chair. Probably made in the late 1840s, the chair is visible in a stereograph view of the Longfellows' parlor dating to the 1860s. It is easy to imagine one of the small Longfellow children seated in this chair, either listening to their mother reading to him or her in the parlor, or perhaps playing at being royalty in a make-believe game. By 1912 the chair, which at the time was recorded as being "upholstered in red silk and wool damask", had moved to its current spot in the small antechamber next to the china cabinet.