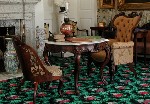 Furniture
All of the exhibited pieces of furniture are from the house, and are placed in their historical locations within the rooms. There are over 450 items ranging from utilitarian to high-style pieces. The collection serves as a history of decorative styles over the years, beginning with the William and Mary Transitional style to the Arts and Crafts style of the 1920s.
Major rooms in the house have original furniture made in the United States by Aaron Willard, Adam Hains, and Thomas Seymour. There are also pieces from
England, Germany, Holland, France, China, and Japan.