Historical and Cultural Collections
The historical and cultural collections at Longfellow National Historic Site span a wide range of subjects. Included are Japanese and Chinese objects, Arts and Crafts items, archeological pieces, architectural elements, and more.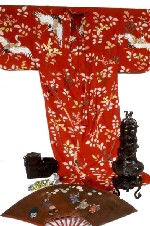 Asian Collections
The Japanese and Chinese collections reflect generations of interest in Asian art, culture, and literature. The Longfellows' Asian collections are significant because of their provenance and context, and provide insights into the importance of international art to one nineteenth century family.
The site's Japanese collections reflect transformations in both Japanese and American culture. After the Meiji Restoration in 1868, Japanese culture became increasingly westernized. In turn, late nineteenth century Americans' lives were transformed by the increased availability of Japanese imports and travel. A "Japan Craze" spread through Boston and beyond in the period between 1870 and 1890.
The collections include a rich assortment of silk kimono, obi, and other Japanese textiles, including some outfits custom designed for Charles Longfellow. Other early Meiji-era items include atlases, printed books, watercolors of Noh theater productions, scrolls, and over 350 photographs, including rare images of the Ainu people.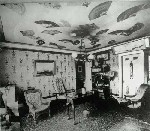 Soon after his return from Japan, Charles and his cousin Alexander Wadsworth Longfellow Jr. decorated his sitting room in the Longfellow House with many of his finds, covering the ceiling with Japanese painted fans, and displaying prints and furniture in the room.
Charles Longfellow, Henry W. Longfellow's oldest child, collected a wide range of ceramics, textiles, bronzes, and paintings during his twenty month sojourn in Japan from June, 1871 until March, 1873. He shipped more than twenty crates of furnishings and decorative arts to his family in Cambridge.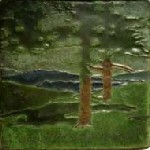 Arts and Crafts Collection
The museum collections reveal Alice Longfellow's keen interest in the Arts and Crafts movement in England and the Boston area, as reflected in books, pottery, jewelry, and furnishings.
In 1897, Alice's cousin Alexander Wadsworth Longfellow Jr. was one of the founding members of the Society of Arts and Crafts, Boston. Alice became a member of the Society in 1901.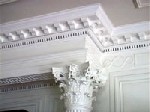 Architectural Collection
This collection holds roughly 300 architectural items dating from the eighteenth to the twentieth century. All items are from the Longfellow House, Carriage House, or formal garden and grounds. Included are:
*Shutters
*Ornamental finials
*Hardware
*Doors
*Fencing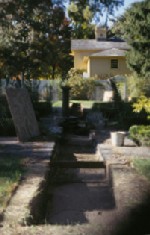 Archeology Collection
The archeology collection numbers over 22,000 artifacts resulting from test digs, and formal archeological excavations in the garden, grounds and house basement. It includes prehistoric artifacts as well as material from the eighteenth through twentieth century. Among the holdings are:
*Blown bottle glass
*Porcelain
*Tools
*Clay pipes