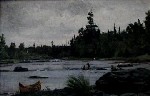 The fine art collection numbers about 2000 works on exhibit and in storage. It includes paintings, drawings, prints, and sculpture that range in date from the seventeenth to the early twentieth century.
The collection showcases the tastes and interests of Henry Wadsworth Longfellow, his wife Frances, their children, and other family members and friends.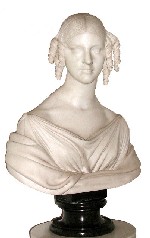 Significant parts of the collection include sculptures formerly owned by Longfellow's close friend Charles Sumner, and the art collection of Fanny Longfellow's brother, Thomas Gold Appleton.
Artists represented include:
*John Kensett
*Gilbert Stuart
*Anna Klumpke
*Winckworth Allan Gay
*George Healy
*Washington Allston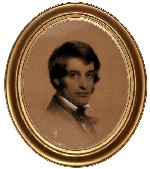 Of particular note for their fine quality are crayon portraits by Eastman Johnson, commissioned by Henry W. Longfellow of his family and friends in the mid 1840s. These include portraits of:
*Charles Sumner
*Ralph Waldo Emerson
*Nathaniel Hawthorne
*Anne Longfellow Pierce
*Charles Appleton Longfellow
*Ernest Wadsworth Longfellow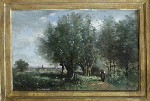 In addition to American artists, well-known nineteenth century European artists are represented in the collection, including:
*Albert Bierstadt
*Jean Baptiste Camille Corot
*Myles Birket Foster
*Lorenzo Bartolini
*Friedrick Overbeck
Several of the rooms contain painted nineteenth century Japanese screens, including one 6-paneled screen by Kano Moritsune.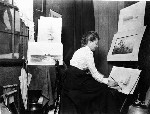 Much of the collection is personal in nature, including gifts from artists the Longfellows met or knew, or purchases made during the family's travels.
Professional and amateur works done by family members figure prominently in the collection, and are linked to family papers in the archives. Included are works by professionally trained artists Ernest W. Longfellow and Mary King Longfellow, as well as art by Henry and Fanny Longfellow, and Alexander W. Longfellow Jr.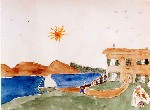 In addition, there are approximately 600 drawings and watercolors done by the Longfellow children in the 1850s and 1860s. Many of these are annotated by Henry W. Longfellow as to date, artist, and location.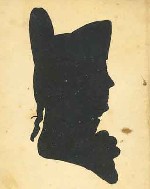 There are also approximately fifty silhouette portraits of Henry W. Longfellow, his extended family, and others by artists such as:
*W. King
*Master Hubbard
*Auguste Edouard