Volunteer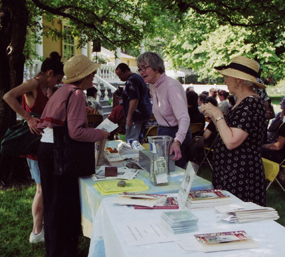 Volunteering at Longfellow House - Washington's Headquarters National Historic Site
Longfellow House - Washington's Headquarters National Historic Site offers a range of activities for those interested in volunteering their time. If you have a love for history, then we have an opportunity for you! Possible volunteer responsibilities include working in the site's book shop, helping out with special events, guiding tours through the historic house, coordinating curriculum-based education programs, working in the archives, or helping maintain the site's gardens.
Current Opportunities
Interpretation Program Volunteer: Do you have passion for history and want to share it with other people? Interpretation Program Volunteers provide friendly visitor orientation, information, and interpretation to increase understanding and appreciation of the site. Responsibilities include staffing the visitor center desk, roving site grounds, leading formal house tours, and helping with special events. Download the program flyer for more information.
Education Assistant Volunteer: If you enjoy working with students, then this is the position for you! Education Assistant Volunteers help park staff in conducting curriculum-based education programming at the site. Duties include set-up, clean-up, leading tours, and facilitating art and/or poetry workshops (depending on experience). Download the program flyer for more information.
If you are interested in volunteer opportunities at the site, please contact our Volunteer Coordinator Garrett Cloer, at (617) 876-4491 or send him an e-mail.