Schedule Of Events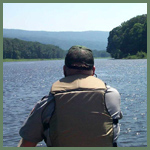 Delaware River Sojourn
Location: all along the Delaware River
Time: about 10 days long in June
Admission: various fees for canoe rental, transportation, etc.
The Sojourn is an annual event begun in 1995, which combines canoeing, camping, and educational programs. It is sponsored by a public partnership of local organizations. The sojourn is held in June, American Rivers Month, to celebrate the diverse resources of the Delaware River and Delaware Valley.
Search for Events
Sorry, but there are no events between 07/18/2014 and 08/01/2014


Did You Know?
...that shad have made a comeback in the Delaware and Lehigh Rivers, due to pollution control. This herring lives its adult life in the ocean, but travels up rivers and streams to spawn. Each spring, anglers follow the "shad run" up the Delaware River to catch these hard-fighting fish. More...