Schedule Of Events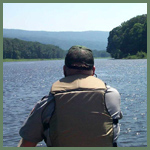 Delaware River Sojourn
Location: all along the Delaware River
Time: about 10 days long in June
Admission: various fees for canoe rental, transportation, etc.
The Sojourn is an annual event begun in 1995, which combines canoeing, camping, and educational programs. It is sponsored by a public partnership of local organizations. The sojourn is held in June, American Rivers Month, to celebrate the diverse resources of the Delaware River and Delaware Valley.
Search for Events
Sorry, but there are no events between 04/10/2014 and 05/01/2014


Did You Know?

... that by the time the Delaware River reaches its estuary, nearly 10% of the nation's population has tapped into it. Tinicum Creek has such high water quality that it is home to several rare species of plants and animals. Sections of the Delaware actually exceed federal standards for clean water. More...