Backcountry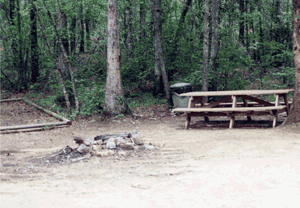 Campsites are OPEN until September 30
Camping is allowed ONLY at the three (3) designated primitive camp sites located in the Backcountry Area - Billy's Ford and Hartline Ford and Slant Rock.
Each campsite has a picnic table, 10' x 20' tent pad, rock fire ring, trash can and outhouse. There is no running water or electricity. One tent (on the tent pad) per campsite; no fee is assessed and these campsites are on a "first come, first serve" basis. No reservations are required.
Billy's Ford and Hartline Ford are located north of the canyon across Highway 35. From Highway 35, turn onto County Road 295; turn right onto Road 05 - Billy's Ford is the first right (takes about 20 minutes driving on Backcountry Roads). Hartline Ford is just above Billy's Ford.
Slant Rock is located just off Highway 35, on County Road 103. Turn into first driveway on left off County Road 103 (Check Station for hunters). Take Road 01 to the first left and follow downhill to the campsite.
There are 23 miles of roads. The roads are narrow, have uneven surfaces and sharp turns. The surface of the road is dirt, gravel and chert; several roads have creek crossings. Horseback riders, licensed vehicles and hikers all share this area. There are many blind turns so please drive slowly and use caution on these roads.
All vehicles must remain on numbered Backcountry Roads (01-11) at all times. Vehicles without a tag (example: ATV's) are not allowed. There are endangered species in this area. Driving off the numbered roads may kill the plants and destroy the habitat. Fines will be severe if any endangered species are harmed.
Mudding (purposely spinning in a muddied area) is NOT allowed. Crossing the river or creeks when the water level is high is unsafe. High water increases the chance that your vehicle will tip over or be carried downstream. If this happens, you could face severe penalties for damage to the natural resources.

OTHER POINTS OF INTEREST
High Rock is a popular swimming area.
DeSoto State Park is located in the northern section of this area.