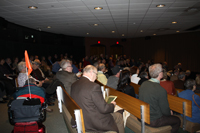 NPS Photo
February 12, 2015 Program
We invite you to join us for the next George L. Painter Looking for Lincoln Lectures which will take place on Wednesday, February 12, 2014, at 8:30 a.m. at the Lincoln Home National Historic Site Visitor Center, 426 South Seventh Street, Springfield, Illinois. The Visitor Center will open one half hour early, at 8:00 a.m.
In 2015, the programs will feature dramatic and musical presentations. Acclaimed musician Chris Vallillo will team with accomplished Lincoln actor Fritz Klein to present "From the Prairie to the Presidency: The Music of Lincoln's Life." In addition, Anne E. Moseley, Assistant Director of the Lincoln Heritage Museum in Lincoln Illinois, will present a dramatic portrayal related to the Lincoln assassination and funeral titled "Louisa Hawes's Story: How Logan County Mourned a President and Friend."
Select this link for more information on Chris Vallillo.
Select this link for more Information on Fritz Klein.
Select this link for more information on The Lincoln Heritage Museum.