George L Painter Looking for Lincoln Lectures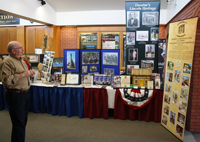 NPS Photo
Every year, on the morning of Lincoln's birthday, February, 12, Lincoln Home National Historic Site partners with the Looking for Lincoln Heritage Coalition, in presenting the George L. Painter Looking for Lincoln Lectures. The goal of the lecture program is to provide information on the rich Lincoln heritage that can be found within the communities throughout the 42 county Abraham Lincoln National Heritage area. Together, Lincoln Home NHS and "Looking for Lincoln" will present stories that focus on the central Illinois communities that Lincoln impacted or that impacted Lincoln.
This annual event is named for its founder, the late Lincoln Home historian George Painter who founded this lecture series, The Lincoln Heritage Lectures, in 1986. The lectures were renamed in honor of George following his untimely death in late 1995.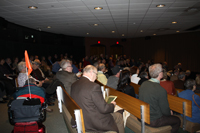 NPS Photo
February 12, 2015 Program
We invite you to join us for the next George L. Painter Looking for Lincoln Lectures which will take place on Wednesday, February 12, 2014, at 8:30 a.m. at the Lincoln Home National Historic Site Visitor Center, 426 South Seventh Street, Springfield, Illinois. The Visitor Center will open one half hour early, at 8:00 a.m.
In 2015, the programs will feature dramatic and musical presentations. Acclaimed musician Chris Vallillo will team with accomplished Lincoln actor Fritz Klein to present "From the Prairie to the Presidency: The Music of Lincoln's Life." In addition, Anne E. Moseley, Assistant Director of the Lincoln Heritage Museum in Lincoln Illinois, will present a dramatic portrayal related to the Lincoln assassination and funeral titled "Louisa Hawes's Story: How Logan County Mourned a President and Friend."
Select this link for more information on Chris Vallillo.
Select this link for more Information on Fritz Klein.
Select this link for more information on The Lincoln Heritage Museum.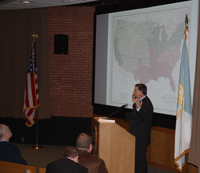 NPS Photo
Since 2010, presentations have included:
"Diversity of Denominations: Faith Communities in Lincoln's Springfield"
"Reverse Engineering: The Strange Case of the Lincoln Trail Homestead State Park"
" 'An Object of Special Curiosity': The Illinois Statehouse in 1860"
" 'Courtesans, Prize Fighters, and Politics': Stories Behind the 'Looking for Lincoln' Wayside at Cook's Hall in Springfield"
"Lincoln and Pittsfield"
"Bloomington's Lincoln"
"Lincoln and Charleston"
"Springfield Illinois African American History Foundation"
"Woodlawn Tales: Dewitt County in the Civil War"
"Oglesby, Decatur, Lincoln and the Civil War: as Presented by Governor Richard J. Oglesby"
"Lincoln and Grierson: A President and a General, as Presented by General Benjamin H. Grierson"
"Journey to Greatness: Character Lessons from the Past"
"Lincoln's Trial and Tribulations: The Story of the 1847 Matson Slave Trial"
"Three Quincy Abolitionists who went to Prison in Missouri"
"Lincoln's Law Practice and Issues of Race"
"Excavations at the Jameson Jenkins Lot"
"Searching for the Early Schools at New Philadelphia"

"Springfield native Julius Rosenwald and the Rosenwald
Schools"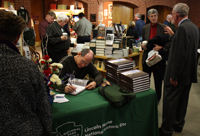 NPS Photo
The George L. Painter Looking for Lincoln Lectures is just one of many programs that take place throughout the day in Springfield every February 12. For more information on what is happening, visit the Springfield Convention and Visitors Bureau web site.