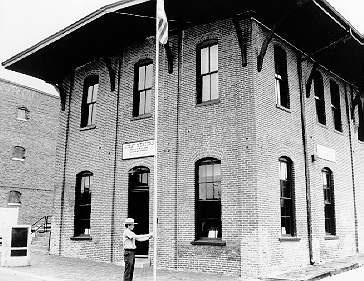 Sangamon State University operated the Depot from 1977 to 1980, financing the operation through a grant from the National Endowment for the Humanities. Copley Press, owners of the Depot, donated a matching amount through Copley Charities. In addition to renovating the building, the University developed a new interpretive theme and used the site as a training ground for history students in site management and interpretation. The evaporation of funding forced Sangamon State University to discontinue operations. Copley Press accepted the role as Depot operator by having it open to visitation during the months of June, July, and August. It soon became obvious that there was sufficient interest in the Depot to justify a longer schedule. In 1987, The State-Journal Register, the corporate descendant of the newspaper Abraham Lincoln termed "always my friend," and Lincoln Home National Historic Site entered into a cooperative agreement to operate the Depot.
Another link in the chain tying the depot to its most illustrious departee occurred with the purchase of the depot from Copley Press in 2012 by Pinky Noll. Her husband, Jon Noll, a local attorney, is a distant descendant of William Herndon, Lincoln's last Springfield law partner.
After extensive repairs and renovation, the lower, museum level of the depot was reopened to the public on May 2, 2013. The mezzanine and upper level of the Depot, a later addition dating to 1900, has been turned into the home of Noll Law. Here up to three generations of Nolls carry on the tradition of law started in Springfield by their ancestor, Lincoln's last law partner. For information on hours and more history on the Depot visit the Depot's website, www.lincolndepot.org.