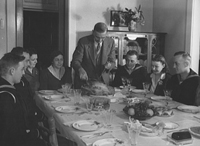 Library of Congress image.
Thanksgiving Timeline
1777: All 13 Colonies hold thanksgiving celebrations.
1789: President George Washington declares November 26th, a national day of thanksgiving.
1920: The first Thanksgiving parade is held in Philadelphia.
1924: The first Macy's Thanksgiving Day Parade is held in New York City.
1934: The National Football League holds its first game on Thanksgiving Day.
1941: After altering the date of Thanksgiving, President Franklin Roosevelt reestablishes the fourth Thursday of November as Thanksgiving Day.
1947: President Harry Truman pardons a turkey that is marked for Thanksgiving dinner at the White House.