Visitor Parking Lot Closed on October 1

Be advised that the Lincoln Home visitor parking lot will be closed on Wednesday, October 1, for maintenance. There are a number of parking alternatives nearby including, metered street parking and parking garages. Call 217-391-3221 for suggestions.
Lincoln on Presidents
February 12, 1861: Lawrenceburg, Indiana
During Inaugural Train Trip to Washington D. C.
If the politicians and leaders of parties were as true as the people, there would be little fear that the peace of the country would be disturbed. I have been selected to fill an important office for a brief period, and am now, in your eyes, invested with an influence which will soon pass away; but should my administration prove to be a very wicked one, or what is more probable, a very foolish one, if you, the people, are but true to yourselves and to the Constitution, there is but little harm I can do, thank God!
Back to Quotes from Speechs and Letters
Did You Know?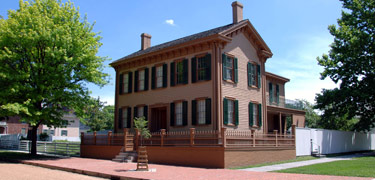 Robert Lincoln donated the family home in Springfield to the State of Illinois in 1887 under the condition that it would always be open free to the public and well maintained. Lincoln Home National Historic Site, Illinois