Lincoln Home Tours During Busy Season

Please be advised that tours of the Lincoln home fill rapidly during our busy summer season. We suggest that you visit the Lincoln Home National Historic Visitor Center early in the day for your best opportunity to receive a tour of the Lincoln home.
Other Resources
"Come and experience your America in a new way"
The National Park Service offers distance learning, field trips and curriculum materials in addition to accredited professional development opportunities for teachers. The parks are America's greatest classroom, telling our stories, and conserving the best natural spaces the nation has to offer.
"Discover History and Historic Preservation in the National Park Service"
From lesson plans based on national curriculum standards to professional development opportunities to college-level historic preservation course outlines, the National Park Service has tools that can help enliven classroom presentations and engage students in learning about history.
Did You Know?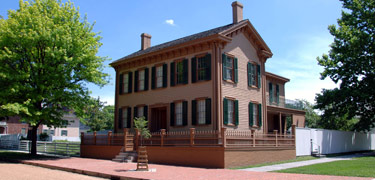 Robert Lincoln donated the family home in Springfield to the State of Illinois in 1887 under the condition that it would always be open free to the public and well maintained. Lincoln Home National Historic Site, Illinois