Visitor Parking Lot Closed on October 1

Be advised that the Lincoln Home visitor parking lot will be closed on Wednesday, October 1, for maintenance. There are a number of parking alternatives nearby including, metered street parking and parking garages. Call 217-391-3221 for suggestions.
8th Grade Curriculum Education Program
The goal of this curriculum based education program is to illustrate the reality of slavery through firsthand accounts by those who endured it.
Interpreters will present this program using techniques, activities, and materials specially designed to meet the needs of the eighth grade curriculum/standards and organized groups ages 12 to adult, while furthering the mission of the Lincoln Home National Historic Site.
Slavery began with slave merchants sailing to Africa to buy, trade for and/or kidnap African people for the purpose of being used as slaves in America. The beginning passage from capture and trek to the coastline killed millions of Africans who fought their captors or died during the travel. The middle passage would kill even more Africans crossing the Atlantic Ocean by mistreatment, illness, torture and suicide. Upon arrival in America many more Africans died during docking, in slave pens, illness, and slave auctions. Once in the fields working, many more Africans would die from malnutrition, exhaustion, illness, punishment, attempting escape and some were killed to intimidate slaves and demoralize hope. The only inspiration Africans had was secretly serving their faith/religion and escape. The Underground Railroad was one of the best opportunity for Africans to escape the harsh reality of Slavery.
Jameson Jenkins: Conductor on the Underground Railroad
8th Grade Curriculum Education Program
Did You Know?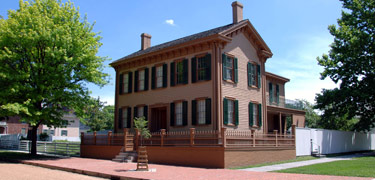 Robert Lincoln donated the family home in Springfield to the State of Illinois in 1887 under the condition that it would always be open free to the public and well maintained. Lincoln Home National Historic Site, Illinois