Plan Your Visit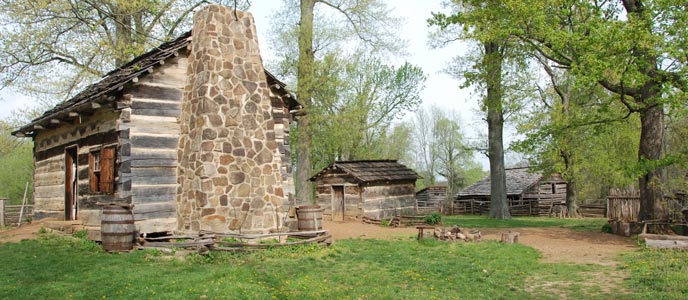 NPS
Visitor Services
Memorial Visitor Center Completed in 1943, the building was designed with two memorial halls and a connecting cloister. The Memorial Court features five sculptured panels, the work of E.H. Daniels, marking significant periods in the life of Abraham Lincoln. A good place to begin your visit, pick up a park brochure, map and trail guide.
Park Orientation Film The story of Lincoln's youth is told in "Forging Greatness: Lincoln in Indiana". This 15-minute film is shown daily, every half hour, from 8 a.m. to 4 p.m. The program is open-capitioned and hearing assisted devices are available upon request.
Museum Exhibits Artifacts and exhibits portray the life of Abraham Lincoln. Learn about his family, boyhood, and frontier life in Indiana.
Lincoln Living Historical Farm The farm is a working pioneer homestead with a log cabin, outbuildings, split rail fences, livestock, gardens and field crops. Rangers dressed in period clothing perform a variety of activities typical of daily life in the 1820s. From mid-April through September the buildings are open. Visitors are invited to visit and browse around the farm site throughout the year.

NPS
Points of Interest
The Allee This landscaped, tree-lined walkway that leads to the Nancy Hanks Lincoln gravesite was designed by the noted landscape architect, Frederick Law Olmstead, Jr., and was completed in 1930. The 120 foot tall steel flagpole was first erected in the island in the parking lot in 1931, but was moved to its present location in 1944. It is one of the tallest in the National Park System.
Pioneer Cemetery - Nancy Hanks Lincoln Gravesite The existing headstone, erected in 1879, marks the burial spot of Abraham Lincoln's mother, who died of milk sickness in 1818. Others who died of the disease are buried on the wooded knoll as well. In the late 19th century, the hilltop served as the Lincoln City cemetery and most of the marked graves date from that period.
Cabin Site Memorial In 1917, the site of what is believed to have been the third Lincoln cabin was located and marked. In 1936, the State of Indiana excavated the site and found the remains of sill logs and a stone hearth. Following the excavation, a bronze casting was placed over the outline of the cabin's foundation and a low stone wall was built.