Park Closure

Due to the forecasted Winter Storm Warning the park will be closed to the public on Friday, December 6, to assure the safety of visitors and park staff. An assessment of conditions will be conducted Saturday morning, December 7.
Brochures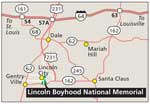 NPS
You'll find many Lincoln Boyhood topics covered in depth in our free park publications. All publications on this page are in Adobe Acrobat Reader (PDF) format, and can be printed on your printer.


Did You Know?

In 1900, Robert Todd Lincoln gave $1000 for the care of his grandmother's grave. This stimulated the Spencer County to appropriate $800 for the purchase of 16 acres surrounding the gravesite. This eventually led to the establishment of Lincoln Boyhood National Memorial.