Kids! Collect stories about the Civil War and civil rights! The National Park Service is offering more than 500 trading cards to mark the 150th anniversary of the Civil War. Visit a park in person to earn a card (sorry, cards cannot be mailed). Ask a ranger or stop by the visitor center at a participating park . You can view all the cards online and discover stories from nearly 90 national parks in 31 states and the District of Columbia. You'll be surprised at what you will learn.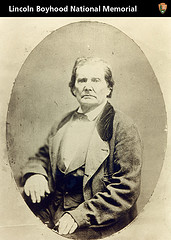 Thomas Lincoln
Moving to a Free State
Abraham Lincoln probably gained his antislavery view from his parents. In 1816, Thomas and Nancy Lincoln moved to Indiana partly because it didn't allow slavery. Their reasons were not only moral, but also economic. In Kentucky, Thomas had competed with slaves for work. Indiana offered more economic opportunity to men who needed to supplement their farm incomes.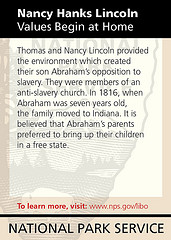 Nancy Hanks Lincoln
Values Begin at Home
Thomas and Nancy Lincoln provided the environment which created their son Abraham's opposition to slavery. They were members of an anti-slavery church. In 1816, when Abraham was seven years old, the family moved to Indiana. It is believed that Abraham's parents preferred to bring up their children in a free state.