Are you ready for your Junior Ranger adventure to begin? The Junior Ranger Program is designed to help educate children about the significance of Abraham Lincoln's life in southern Indiana. The program consists of viewing the 15 minute park orientation film, visiting the gravesite of Nancy Hanks Lincoln, the Cabin Site Memorial and the Living Historical Farm. To earn your badge and certificate pick up your Junior Ranger booklet at the Visitor Center Information Desk and return when completed.
Junior Ranger Web Quest Not planning on visiting Lincoln Boyhood in the near future? Or, are you planning a visit and want to prepare for your experience? Now there is a way to learn about Lincoln Boyhood National Memorial and become a Junior Ranger from home! Just print out this Junior Ranger Web Quest booklet, answer the qustions, complete the activities, and mail the completed booklet to the park. By completing the steps and mailing your work to a ranger you can earn a nifty Junior Ranger badge. All the information you will need to complete the program is located somewhere in the park's web site. We hope this program inspires you to visit Lincoln Boyhood to learn more.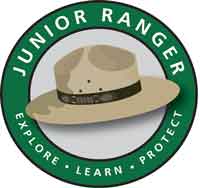 nps photo


Junior Ranger

Print your book here or stop by the information desk in the Memorial Visitor Center to obtain a copy of the Junior Ranger booklet.

Be a Web Ranger

Online activities explore our national parks Read More

Junior Ranger Web Quest

Learn how to become a junior ranger from home.