Cutting back Ranger Talks after Labor Day

After Labor Day, Ranger talks will be provided daily at 10:00 a.m., 1:00 a.m., and 3:00 p.m.
Your Safety
Be Alert, Be Aware of your Surroundings and Obey Park Rules.
For Your Safety:
Trails
Do not walk off the trails, stay on designated trails only.
Stay on the sidewalks
Remember, you are in an area where you may encounter a rattlersnake.
Tour Road
Obey the speed limit.
Be on the alert for livestock as you drive the 4.5 mile tour road to the Reno-Benteen Battlfield site(this is open range).
Temperatures
The climate at Little Bighorn Battlefield is physically demanding any time of year. From June through September, daytime temperatures may exceed 85-95 and sometimes over 100 degrees Fahrenheit.
Sun Stress /Dehydration
With high heat temperatures sometimes dehydration may occur.

Keep well hydrated. Bring ample water in your vehicle and while walking trails.

Cooled bottled water may be purchased in the bookstore.
Lightening Storms
Lightening storms occur occasional.
Lightening Storms strike more around high terrains such as hill tops and ridges.

When lightning approaches, get inside a completely enclosed building or your vehicle.
Did You Know?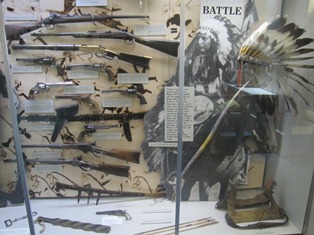 From archeological evidence the warriors who fought in the battle used about 45 different types of firearms, ranging from muzzle loaders, cap and ball to the advanced Henry and Winchester repeaters. Its believed about 10% of the warriors had firearms and the majority fought with their traditional weapons.