Visitor Centers
Little Bighorn Battlefield Visitor Center

Open
Open All Year
From May 28 to July 31 and August 1 to September 1 8:00 a.m. - 9:00 p.m. and 8:00 a.m.- 8:00 p.m.

From September 4 to October 1: 8:00 a.m. - 6:00 p.m.
From October 1 to March 31: 8:00 a.m - 4:30 p.m.

Phone
(406) 638-3224

Closures
Open year-round except for Christmas, New Years, and Thanksgiving.
Special Programs
Interpretive Talks begin Memorial Day and run until Labor Day. Anniversary commemmoration of the Battle of Little Bighorn on June 25.

Exhibits
Colter Ledger Drawing Exhibit in Museum





Did You Know?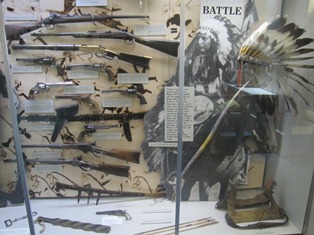 From archeological evidence the warriors who fought in the battle used about 45 different types of firearms, ranging from muzzle loaders, cap and ball to the advanced Henry and Winchester repeaters. Its believed about 10% of the warriors had firearms and the majority fought with their traditional weapons.