Little Bighorn Battlefield announces road paving project 2014.

Little Bighorn Battlefield will be resurfacing the park tour road. More »
Fees & Reservations
The following entrance fees applies daily:

Individual Fee - $5.00

For individuals on foot or riding motorcycles

or bicycles into the Battlefield.
Private vehicles - $10.00
Commercial Sedans 1-6 people - $25.00
Commercial Vans/mini-Bus 7-15 people - $40.00
Commercial Buses (Charter Buses) $100.00
Park Passes - All passport passes (Annual, Senior & Access)
Admits the cardholder and accompanying passengers in a single private vehicle, but does not cover more then one private vehicle.
All passports does not cover commercial vans/mini buses 7-15 people, commercial fee is $40.00.
It doesn't matter if the majority of the bus passengers have senior passports, the commercial bus must pay the fee of $100.00 regardless.
On all commercial fees: a passport (Annual, Senior, Acess) are not valid to passengers of Commercial Tours.
The passes can be obtained in person at the park or via the Internet at http://store.usgs.gov/pass/index.html
America the Beautiful - National Parks and Federal Recreational Lands Pass
The National Park Service is an important participant in the new Interagency Pass Program which was created by the Federal Lands Recreation Enhancement Act and authorized by Congress in December 2004. Participating agencies include the National Park Service, U.S. Department of Agriculture - Forest Service, Fish and Wildlife Service, Bureau of Land Management and Bureau of Reclamation. The pass series, collectively known as the America the Beautiful - National Parks and Federal Recreational Lands Pass, for a brief explanation of each passes click here.
National Parks to Offer Free Admissions on 9 Days in 2014

Mark your calendar for these free fee dates in 2014:
January 20:
Martin Luther King, Jr. Day
February 15-17:
Presidents Day Weekend
April 19-20
National Park Week"s opening weekend
For more information click http://www.nps.gov/npweek/
August 25:
National Park Service's 98th birthday

September 27:
National Public Lands Day

November 11:
Veterans Day

More information is available at http://www.nps.gov/findapark/feefreeparks.htm.


Did You Know?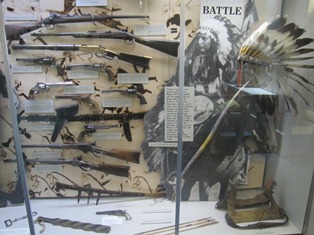 From archeological evidence the warriors who fought in the battle used about 45 different types of firearms, ranging from muzzle loaders, cap and ball to the advanced Henry and Winchester repeaters. Its believed about 10% of the warriors had firearms and the majority fought with their traditional weapons.