News Releases
Recent Press Releases

Little Bighorn Battlefield announces winter hours.
Read news announcement here....

National Parks to Offer Free Admissions in 2014
Read announcement here.

Past Press Releases
Indian Memorial Engraving Project

Temporary panels have been in place on the interior walls of the memorial since dedication of the Memorial in 2003. Read more by clicking here Indian Memorial Closed During Engraving Project.

Little Bighorn Battlefield National Monument announces the 137th Anniversary.
137th Anniversary-Battle of the Little Bighorn

"Economic benefits of the Battlefield"
Park News Release -
COLLECTION RELOCATION

For more information regarding the Little Bighorn Battlefield Collection Relocation click on:
NEWS RELEASE 03/28/11: Museum Collection Relocation
Business as usual at the Little Bighorn Battlefield Visitor Center and Museum.
Museum displays will remain on exhibit in Visitor Center

For more information contact Visitor Center/Museum at (406) 638-3214 or (406) 638-3217


Did You Know?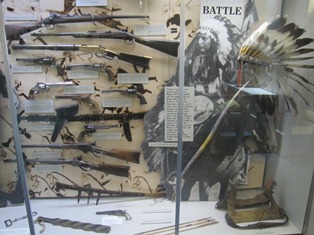 From archeological evidence the warriors who fought in the battle used about 45 different types of firearms, ranging from muzzle loaders, cap and ball to the advanced Henry and Winchester repeaters. Its believed about 10% of the warriors had firearms and the majority fought with their traditional weapons.