South Clatsop Slough Trail
South Clatsop Slough Scramble
5th Annual
Saturday, Sept. 27, 2014
10 a.m. Fun Run & Hike
The race will start at the park's Netul Landing parking area, approximately 1.25 miles south of Fort Clatsop.
Runners can register for one of two options - a 3-mile "short loop" and a 5.5-mile "long loop". Walkers can register for the 3-mile "short loop". Both loops will take participants along South Clatsop Slough, through bottomlands, into the coastal hills and along the Netul River. The loops have great views of Saddle Mountain and cross a number of scenic boardwalks and bridges.
Onsite registration 9:00 a.m. to 9:45 a.m. The route is not accessible for a wheelchair or stroller. Please, no pets. The event will be held rain or shine.
There is no cost to participate. The Scramble is sponsored by the Lewis & Clark National Park Association, which supports park education and interpretative activities.
Click here for a map of the routes.
"Like us" on Facebook.
South Clatsop Slough Trail
Are you tough as Lewis and Clark and the people they met? Looking for a difficult, yet scenic hike? The South Clatsop Slough Trail winds around the restored historic South Clatsop Slough while providing glimpses of the wetlands. The trail traverses the steep terrain Lewis and Clark wrote about in their journals, terrain that the native Clatsop people covered with agility and speed.
The three mile loop connects to the Netul River Trail and the Fort to Sea Trail. Hikers are encouraged to park at the Fort To Sea Trailhead or at the Netul Landing to access this trail either from the Netul River Trail or the Fort to Sea Trail. Two miles of the trail is a single track dirt or gravel trail that can be muddy. Hikers are encouraged to wear sturdy well traction shoes, carry water, walking stick and be prepared for rain.
This route is not accessible by wheelchair or strollers. The route crosses Fort Clatsop Road. Please watch for traffic as vehicles are not required to stop for pedestrians.
Did You Know?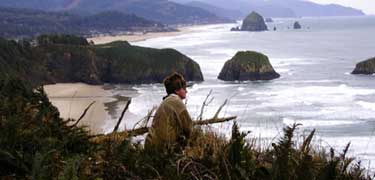 Lewis and Clark National and State Historical Parks are comprised of 1,824 acres in Washington and 1,421 acres in Oregon, with the two extremity sites being a two hour drive from each other.