Lewis and Clark Trail Runs, Walks & Hikes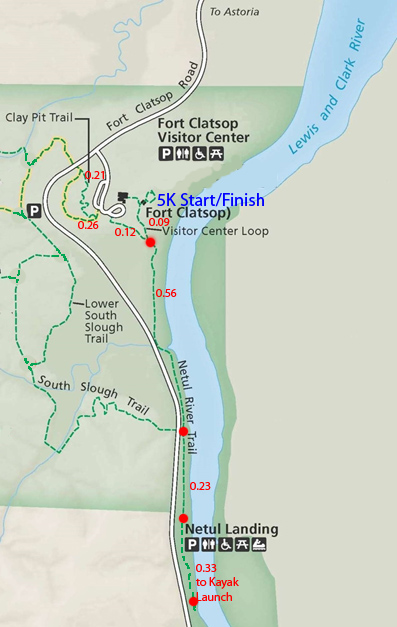 Summer Solstice 5K Trail Run and Hike
Saturday June 20, 2015 at 6 p.m.
Celebrate the beginning of summer with a run or walk through the park. Starting at the Fort Clatsop replica, run or walk on the Netul River Trail to kayak launch, then back on Netul River Trail through the picnic area, around Clay pit pond loop and back to the fort.

Entry fee is a $10 annual park pass or free with a pass that allows entry to all National Parks.
You can register day of the race at 5-5:45 p.m. or you can pre-register any day between 9 a.m. and 5 p.m. at the Fort Clatsop Visitor Center. Registration form
2015 Lewis and Clark Trail Run Series
The 2015 Lewis and Clark Trail Run Series includes three different exhilarating events along beautiful trails through forest landscapes, complete with a welcoming and friendly race atmosphere. All events are open to walkers and runners of all ages and provide the opportunity to experience the northwest coast the way people have done it for thousands of years - on footpaths.
Purchase an Annual Park pass for $10 that grants entry into all of the trail events and usage of the trails. The entrance fees of the park are used to create and maintain the trails for everyone's enjoyment.
Future Trail Run/Walks:
6th Annual South Slough Scramble 5K/10K - Saturday, September 26 at 10 a.m.
This year the park is joining Seaside Providence Hospital and Sunset Empire Recreation for Diabetes awareness. Mark calendar for the "Outpace Diabetes Scramble" and get ready to tackle the ups and downs of the South Slough Trail aka: Steep Trail. The Scramble start/finishes at the Netul Landing.
Pre-register any day before the event at the Fort Clatsop Visitor Center or register the day of the event from 9-9:45 a.m. at the Netul Landing.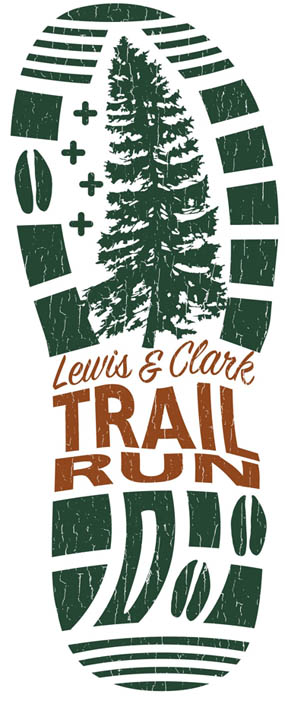 Lewis and Clark Trail Run
5k or 10k
Trail Run & Hike
March 21, 2015 - 10 AM
Results - Women's 5K
| | | | |
| --- | --- | --- | --- |
| 1 | Fischer | 147 | 29:45:00 |
| 2 | McAllister | 135 | 34:19:00 |
| 3 | O'Malley Glaizio | 133 | 36:09:00 |
| 4 | Ballenger | 117 | 37:27:00 |
| 5 | Gardner | 134 | 38:49:00 |
| 6 | Weidman | 141 | 45:45:00 |
| 7 | Ferry | 142 | 45:46:00 |
| 8 | Billings | 118 | 48:53:00 |
| 9 | Nygaard | 120 | 55:53:00 |
| 10 | Barendse | 121 | 55:55:00 |
| 11 | Powell | 126 | 56:53:00 |
| 12 | Fukami | 104 | 59:31:00 |
| 13 | Green | 137 | 60:15:00 |
| 14 | Ka. Runge | 113 | 60:25:00 |
| 15 | Ke. Runge | 114 | 60:25:00 |
| 16 | Edwards | 115 | 60:25:00 |
| 17 | Hansen | 112 | 60:26:00 |
| 18 | Smith | 124 | 63:00:00 |
| 19 | Bunney | 125 | 63:00:00 |
Results - Men's 5K

| | | | |
| --- | --- | --- | --- |
| 1 | Fromwiller | 140 | 30:32:00 |
| 2 | Laman | 138 | 30:58:00 |
| 3 | Bell | 116 | 34:12:00 |
| 4 | Heman | 127 | 54:03:00 |
| 5 | Rosen | 136 | 60:15:00 |
| 6 | Hansen | 111 | 60:26:00 |
Results - Women's 10K
| | | | |
| --- | --- | --- | --- |
| 1 | Laman | 139 | 53:10:00 |
| 2 | Morrow | 129 | 60:37:00 |
| 3 | Shepherd | 102 | 61:46:00 |
| 4 | Neff | 108 | 65:41:00 |
| 5 | Hutmacher | 145 | 68:10:00 |
| 6 | Herman | 122 | 70:40:00 |
| 7 | LaFleur | 123 | 70:40:00 |
| 8 | Cramer | 101 | 73:15:00 |
| 9 | Angelis | 105 | 76:22:00 |
| 10 | Sargeant | 130 | 83:00:00 |
Results - Men's 10K
1
Allen
132
42:45:00
2
Fry
119
45:46:00
3
Gerttula
100
48:28:00
4
Rasmussen
146
50:16:00
5
Chambers
131
57:52:00
6
Stamper
128
58:45:00
7
Heavenrich
143
60:15:00
8
Wiegardt
144
63:34:00
9
Frausto
109
63:40:00
10
Hoover
106
63:42:00
11
Randles
148
69:47:00
12
Stanley
110
70:40:00
13
14
Cramer
Barker
103
149
73:16:00
85:25:00