South Clatsop Slough Trail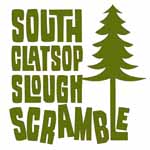 South Clatsop Slough Scramble
5th Annual
3 mile or 5.5 mile
Fun Run & Hike
September 27, 2014 - 10 AM
Whether you're training for the annual Columbia River Crossing, or out looking for a fun fall run and walk, the South Clatsop Slough Scramble invites you to experience the northwest coast the way people have done it for thousands of years –on footpaths.
The race will start at the park's Netul Landing parking area, approximately 1.25 miles south of Fort Clatsop. Runners and hikers can register for one of two options –a roughly 3-mile "short loop" and a 5.5-mile "long loop."
Course:
The fun walk/run will occur rain or shine. There are two courses: a 3-mile loop for runners and walkers or a 5.5-mile loop for runners only. Both loops cover steep terrain and some of the course is a single track dirt and gravel trail that can be muddy. The rest of the course is over boardwalks (which can be slippery) and packed graveled paths. Please make sure you have good shoes with traction. Hiker are welcomed to carry walking sticks. The route is not accessible for a wheelchair or stroller. Please no pets during the race.
There will be flaggers at the road crossings until all registered participants cross.
Onsite Registration:
Registration will occur at the north end of the Netul Landing from 9 AM to 9:45 AM.
Cost:
There is no cost to participants in the fun run/walk.

Start time:
10 AM at the Netul Landing

Questions?
e-mail us
(503)861-2471
Click here for a map of the routes.
South Clatsop Slough Trail
Are you tough as Lewis and Clark and the people they met? Looking for a difficult, yet scenic hike? The South Clatsop Slough Trail winds around the restored historic South Clatsop Slough while providing glimpses of the wetlands. The trail traverses the steep terrain Lewis and Clark wrote about in their journals, terrain that the native Clatsop people covered with agility and speed.
The three mile loop connects to the Netul River Trail and the Fort to Sea Trail. Hikers are encouraged to park at the Fort To Sea Trailhead or at the Netul Landing to access this trail either from the Netul River Trail or the Fort to Sea Trail. Two miles of the trail is a single track dirt or gravel trail that can be muddy. Hikers are encouraged to wear sturdy well traction shoes, carry water, walking stick and be prepared for rain.
This route is not accessible by wheelchair or strollers. The route crosses Fort Clatsop Road. Please watch for traffic as vehicles are not required to stop for pedestrians.