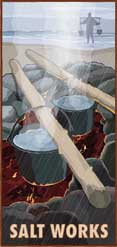 Meet the members of the Salt Makers party every summer during the 3rd weekend in August. Thanks to the Seaside Museum & Historical Society, the City of Seaside, Oregon State Parks and Washington State Parks, we are able to host a unique opportunity to "meet" members of the Corps of Discovery as they are preparing salt for their return trip home. This is a chance for you and your family to talk and trade with members of the expedition while they are camped on the beach, tending the fires and boiling the seawater to make salt. What might you talk with them about? One idea is to bring something to trade with the party. What might you trade? That's where you can have some fun; think about what you might want if you were thousands of miles from home and living 200 years ago on an unfamiliar coast.
Drive on U.S. Highway 101 to the town of Seaside. Turn west (toward the ocean) on Avenue U. The program is on the beach not far from the small parking area at the end of the street.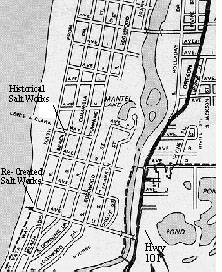 Historical Salt Works
To reach the Salt Works, drive on U.S. Highway 101 to the town of Seaside. Turn west (towards the ocean) on Avenue G and follow the signs to South Beach Drive and Lewis and Clark Way. The site is on Lewis and Clark Way which deadends at the Prom--a walking path. Because of this, park on South Beach Drive.
In visiting the Salt Works please drive carefully, and respect the property rights of the residents living there today.