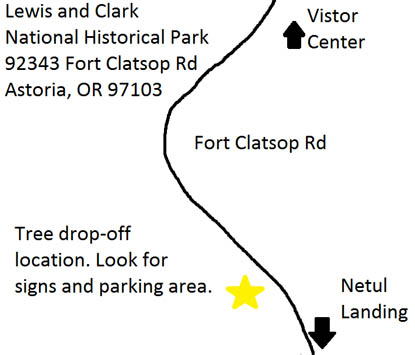 Cocoa and Coho
Christmas Tree Drop-off: December 26 - January 31

Eco-cycle your Christmas Tree at the Colewort Creek Restoration site to provide habitat for aquatic life, including juvenile Coho salmon. Be sure to remove all tinsel and ornaments.

Drop off location: Between Fort Clatsop Visitor Center and Netul Landing on Fort Clatsop Road across from the Netul River trail bridge, roughly 3/4 miles from the Visitor Center.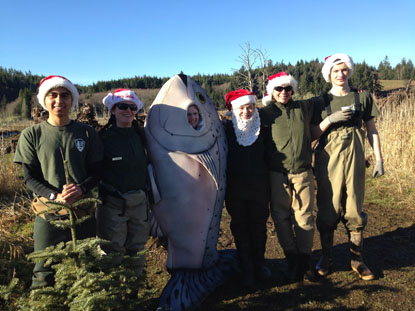 Come out and help place Trees!
January 31st from 1-4 PM
Help us place the trees into the channels throughout the restoration site.
It will be muddy so come be prepared with appropriate attire. Gloves and hot cocoa will be provided. Park at Netul Landing (one mile south of Fort Clatsop Visitor Center), walk north on Netul river trail to bridge and carefully cross Fort Clatsop road to the Colewort creek restoration site.
This is an excellent way to give back this holiday season. For more information call (503) 861-4445
In the Fort Clatsop Visitor Center Theater:
"Clatsop Winter Story" 22 minute film
"Confluence of Time and Courage" 34 minute film