Netul Landing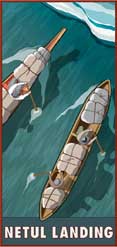 To reach the wooded site that would become Fort Clatsop, the Corps paddled up the Netul River past lush riverbanks and tall evergreens teeming with wildlife, such as playful river otters and majestic bald eagles.
Now the river is named after Lewis and Clark, but Netul Landing pays homage to the former name and is an excellent place to launch your kayak or canoe for a paddle trip. Bring your non-motorized boat or sign up for a Ranger guided canoe and kayak trip during the summer months. Click here for more information.
The launch is part of the Lewis and Clark Columbia River Water Trail, a 146-mile stretch of water that follows the explorers' route on the Lower Columbia River from Bonneville Dam to the Pacific Ocean, near Ilwaco, Wash.
Netul Landing also marks one end of the new Lewis and Clark River Trail. The Lewis and Clark River Trail is a gentle, 1.5-mile meander along the river, taking in many of the same sights that the expedition members did. You can park your car in the nearby parking areas and walk to the Visitor Center at Fort Clatsop to continue your own journey into local history, or connect up with the Fort to Sea trail and trace the Corps' trip to Sunset Beach.
IF YOU GO: From Astoria, head south on U.S. Highway 101 and follow the signs to Fort Clatsop. Drive 1.5 miles past the entrance to the fort to Netul Landing. From Seaside, head north on U.S. 101 and follow the signs. For more Information, call Lewis and Clark National Park, (503) 861-2471. Restrooms are available. Park Entrance fee $3 per person (age 16 and up)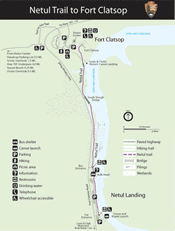 Netul Trail Map
[pdf] shows the relationship of Netul Landing and the Fort Clatsop Visitor Center and Exhibit.

The Lower Columbia River Water Trail
The Lower Columbia River Water Trail will extend along 146 river miles of the Columbia River from Bonneville Dam to the Pacific Ocean. Facilities are being constructed on the trail so that people in non-motorized boats can safely travel for a day or overnight explorations. The non-motorized boat launch at Netul Landing serves as one terminous of the Lower Columbia River Water Trail.


The Clatop Tribe

Learn about the Clatsop as well as other area Native American tribes Read More

Fort Clatsop (OR)

Fort Clatsop is the site of the winter encampment of the Corps... Read More

Fort To Sea Trail (OR)

The Fort-to-Sea Trail replicates the route members of Lewis and Clark's Corps of Discovery may have Read More
Did You Know?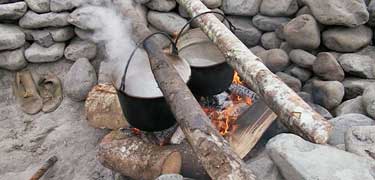 The area where the Saltmakers made camp is in present day Seaside, Oregon. Seaside is approximately 15 miles away from Fort Clatsop. It was the first place which provided firewood, rocks, fresh water, game animals and good neighbors.