Guest Speakers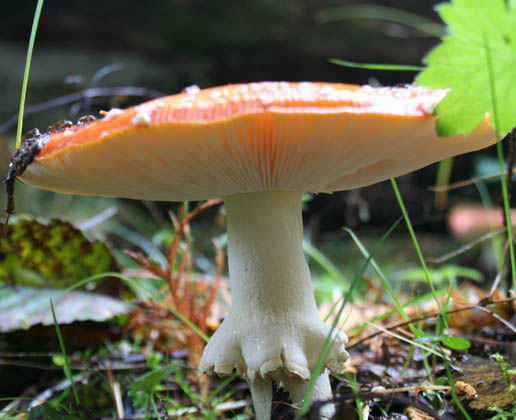 Mysterious Mushrooms of Clatsop County
The first program in this monthly series is Mysterious Mushrooms of Clatsop County presented by Dane Osis.This is scheduled for Sunday, September 21, at 1:00 p.m. An amazing variety of fungi thrive in Clatsop County due to the area's high precipitation and humidity. This illustrated talk will cover the rules and regulations for mushroom hunting as well as the equipment needed to collect fungi. The audience will also learn about some of the common species of both edible and poisonous mushrooms found in this area.
Dane Osis is a state park ranger at Fort Stevens State Park. After gaining a foundation in mushroom identification through several college courses, Dane commercially picked mushrooms in the Siskiyou and Deschutes National Forests. He has been teaching mushroom identification for the past eleven years at Fort Stevens State Park and has shared similar training at several Oregon State Parks and the Tillamook Forestry Center.
Other upcoming In Their Footsteps: speaker series programs include:
October 19 –Lost in the Fog, November 7, 1805 by Roger Wendlick
November 16 – Cold Weather Survival; a Way of Life by Frank Heyl
December 21 –Jefferson's Bible by Junius Rochester
In Their Footsteps Lecture Series
On the third Sunday, September through May at 1:00 PM, this speaker series is an opportunity to meet scholars, authors, and artists. Join the conversation and be inspired by history, people and culture. This forum is sponsored by the Lewis & Clark National Park Association and presented in the Netul River Room of the Fort Clatsop's visitor center and are free of charge.
Nature Matters: Where Nature and Culture Meet
A lively monthly conversation about the intersection of nature and culture, takes place on the third Thursdays of the month, August through May, at the Fort George Brewery + Public House in Astoria, OR. The series delves into the many ways that human beings look to the natural world for inspiration, sustenance and survival - the intersection of nature and culture. The collaborative series is hosted by Lewis and Clark National Historical Park, North Coast Land Conservancy and the North Coast Watershed Association in partnership with the Fort George and are free to the public.
Did You Know?

Approximately 250,000 people visit Fort Clatsop per year. The slowest days of the year are in December, but we haven't had any days of no visitors.