Fort Stevens State Park (OR)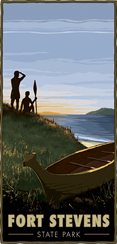 Well-known for magnificent public beaches and recreation opportunities, Fort Stevens State Park is also rich with history. For thousands of years, a bustling Clatsop Indian village stood on the banks of the Columbia River, a strategic trade spot. Clatsops from this village helped the Corps of Discovery. Later, the United States army built a fort and an extensive series of bunkers, many of which stand today. From the Civil War through the end of WWII — more than 80 years — Fort Stevens helped defend the river mouth.
Today's park includes almost 4,000 acres, featuring year-round camping facilities, miles of ocean and river beach, horseback, hiking and biking trails, fishing and swimming lakes, shipwrecks, and sweeping views of Astoria, Youngs Bay, Southwest Washington and the Columbia River mouth. A replica of a Clatsop Indian long house is located on the grounds of Fort Stevens Historical Site. The park also offers a military interpretive museum, the only enclosed Civil War earthworks site on the West Coast, and, in fall, Civil War battle re-enactments.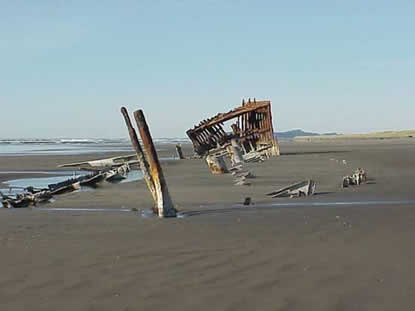 An NPS Photo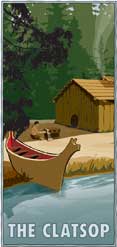 The Clatsop village site is shown on historic maps as being near the north shore of Point Adams, which was the original mouth of the Columbia River prior to the construction of the south jetty. This was a strategic location for contacting Native Americans and later, European-American traders traveling on the Columbia River. Point Adams is still discernible today, although sand accretion to the west due to the jetty has drastically changed the configuration of the mouth of the river.
The village site has a view of the Columbia River to the north. The Civil War earthworks lies to the south of the village site. Beyond the earthworks, to the south, are the remains of Fort Stevens which was constructed at a later date.
Cape Disappointment (WA)

Cape Disappointment State Park, near Ilwaco, Washington Read More

The Clatop Tribe

Learn about the Clatsop as well as other area Native American tribes Read More

Lewis & Clark National Historical Park Guide

Click here to download a print-friendly pdf of our park guide [4.1 MB] Read More