Fort Columbia State Park (WA)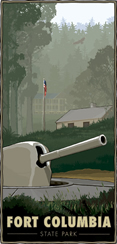 The Chinook Indians knew the value of good land. With its prime location on the north side of the Columbia River, the area now known as Fort Columbia State Park was home for thousands of years for the Chinooks and the famed Chief Concomly. Rich in game, trees and defendable land, the site also had prime access to the Columbia.
Like the Chinook Indians, though, settlers saw the value of the site for its harbor defense capabilities and created a military site that defended the Columbia River from 1896 to 1947. Fort Columbia was declared surplus at the end of World War II. It became a state park in 1950.
Today Fort Columbia State Park is a 593-acre day-use historical park with more than a mile of freshwater shoreline, An interpretive center with information on the Chinook Native American culture and fort history and 5 miles of hiking trails through mature forest are worth a visit. Twelve historic wood-frame buildings still stand on the premises.
There are unsheltered picnic tables perfect for checking out the sweeping views of the mouth of the Columbia River, as well as taking a lunch break after a hike on some of the park's five miles of trails. Other activities include bird watching, spying bald eagles and ospreys hunting along the shore of the Columbia River. The woods are home to numerous owls and woodpeckers, deer, elk and some bear.
An NPS Photo