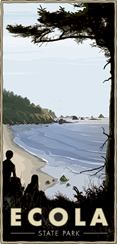 After more than 18 arduous months of exploration, the Corps of Discovery had yet to face what Capt. William Clark would call "the Steepest worst & highest mountain I ever ascended."
Tillamook Head, located between present day Seaside and Cannon Beach, claimed that title, according to the explorer's journal. Shortly after Christmas Day in 1806, Clark and 12 other expedition members, including Sacagawea, climbed over rocky headlands and made their way through thick shrubs and trees to see a beached whale south of what is now Ecola State Park. The expedition also wanted to trade for whale blubber and meat to enhance their stretched provisions.
The weather and trail was bad enough to prevent the group from reaching the whale until Jan. 8, at which time the neighboring Tillamook Indians had gathered most of the meat and blubber. They traded the expedition a few gallons of rendered oil and 300 pounds of blubber. Upon tasting the flesh, Clark found it not unlike "the fat of Poark" and resembling "beaver or dog in flavour."
Today Ecola State Park wraps around Tillamook Head and features nine miles of Pacific Ocean shoreline. Hikers, whalewatchers, surfers and beachgoers flock to the popular park.
The hikes include an 8-mile segment of the Oregon Coast Trail that is also a part of the Lewis and Clark National Historic Trail. Indian Beach marks the start of the new Clatsop Loop Trail, a 2 ½ mile interpretive trail that gives you the chance to walk on the south side of Tillamook Head, and in the footsteps of Capt. Clark and members of the Corps, but minus the whale blubber! Your journey starts at Indian Creek and ascend to Hiker's Camp. Salal, salmonberry and some of the region's largest Sitka spruce trees thrive here. To identify Sitka spruce, look for overlapping bark like scales and paper-like cones. A large Sitka spruce nearby is estimated to have germinated in the 1600s and was almost 200 years old when Clark walked the trail.
In addition to Indian Beach, popular with surfers and tide pool explorers, there is secluded Crescent Beach. Many species of wildlife and birds call Ecola home. During the winter and spring, you can see migrating gray whales from one of the promontories overlooking the ocean. During the migration seasons, a popular whale watching program features trained volunteers to help you spot the grays.
IF YOU GO: Take U.S. Highway 101 toward Cannon Beach. Take the exit for Ecola State Park. During July and August parking can be crowded. The park entrance fee is $5 each day or $30 a year. Restrooms are available. For more information, call Ecola State Park, (503) 436-2844.
An NPS Photo