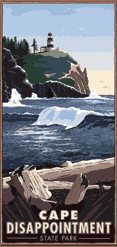 After missing the entrance to what was later named the Columbia River, English explorer John Meares dubbed the massive headland jutting out into the Pacific Ocean "Cape Disappointment." That was in 1788. Almost 20 years later, Capt. William Clark and members of the Corps of Discovery explored the headland in their final push to the Pacific Ocean.
Today Cape Disappointment State Park offers 27 miles of ocean beach, two lighthouses, hiking trails, camping and the Lewis and Clark Interpretive Center. Perched on a cliff 200 feet above the mouth of the Columbia River, the center tells the story of the Corps of Discovery's journey, focusing particularly on their Pacific Coast stay. It's a wonderful stop for families, with interactive exhibits that let children try to pack a canoe without tipping it, follow a treasure hunt and check out what the Corps had for its inaugural meal (hint: it was served on china) to what it ate during the rainy winter at Fort Clatsop (roots and sometimes dog figured into the menu.)
You can learn about the nearby North Head and Cape Disappointment Lighthouses. Cape Disappointment Lighthouse is the oldest operating lighthouse on the West Coast. The lighthouses both protected mariners from the rough and ever-changing Columbia River Bar in the treacherous area known as the Graveyard of the Pacific.
There are several short hikes nearby, many of which follow routes that Capt. Clark and the Corps took to explore the ocean beach below. The park offers breathtaking views of the Pacific Ocean and Columbia River, with old-growth forest, lakes, freshwater and saltwater marshes, as well as streams and tidelands along the ocean.