Campgrounds
Oregon's Fort Stevens State Park offers camping (tent, RV and yurt), beachcombing, freshwater lake swimming, trails, wildlife viewing, an historic shipwreck and an historic military area. A network of nine miles of bicycle trails and six miles of hiking trails allow you to explore the park through spruce and hemlock forests, wetlands, dunes, and shore pine. Coffenbury Lake has two swimming areas, a picnic area, restrooms, and a boat ramp (10 mph boating speed limit). Two other smaller lakes offer boat ramps for fishing and canoeing. Click for more information, including reservations.
Washington's Cape Disappointment State Park (formerly Fort Canby State Park) is a 1,882-acre camping (tent & RV) park on the Long Beach Peninsula, fronted by the Pacific Ocean. The park offers 27 miles of ocean beach, two lighthouses, an interpretive center and hiking trails. Visitors enjoy beachcombing and exploring the area's rich natural and cultural history. Click for more information & reservations.


Did You Know?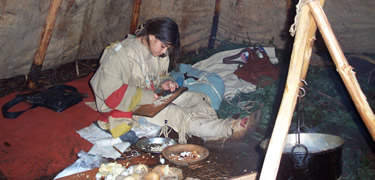 Sacagawea was stolen as a young girl from the Shoshone by the Minnetare/Hidatsa people. In the journals Sacagawea is called "Bird Woman" and in the Minnetare/Hidatsa language Sacagawea means "Bird Woman."