Bicycling Information
If you plan to bicycle to or around the Lewis & Clark National Historical Park, here are a few things you should know:
During your visit to Fort Clatsop there is a bike rack outside the Visitor Center, bikes are not allowed down to the fort.
While there are many trails in the park, bicycles are only allowed on the Fort to Sea Trail; from the Visitor Center parking lot to the overlook (1.5 miles), and from the overlook to Perkins Lane which will lead you to Hwy. 101 (approx 2.5 miles). Stop by the Visitor Center for a map or click here.


Did You Know?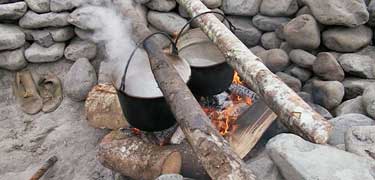 The area where the Saltmakers made camp is in present day Seaside, Oregon. Seaside is approximately 15 miles away from Fort Clatsop. It was the first place which provided firewood, rocks, fresh water, game animals and good neighbors.