William Hampton Smith House
3 Photos

Sketches to better illustrate the position of these structures. Map number one through three show the existing conditions with different proposals as to the original location of the Smith's house. The outlineof the Smith's house is based upon the sketches provided by Harlan Smith. Utilizing the sketches and the descriptions, I based my maps on a twelve by twelve foot parlor.
Did You Know?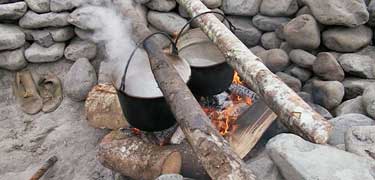 The area where the Saltmakers made camp is in present day Seaside, Oregon. Seaside is approximately 15 miles away from Fort Clatsop. It was the first place which provided firewood, rocks, fresh water, game animals and good neighbors.