Multimedia Presentations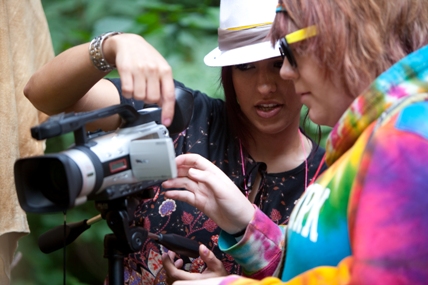 Lewis and Clark Film Camp 2010
Nine students from the Pacific Northwest participated in this year's film camp. The students interviewed local and regional experts and gathered oral histories to produce three films.
Planning is underway for the 2011 camp. Film subjects might include the Chinook Nation's construction of a longhouse at the park's Middle Village unit, the search for the real Dismal Nitch, and excavation of historic tidal channels along the Netul River.
Conservation by Design: The Yeon Legacy seeks to solve a mystery involving one of the Northwest's most influential architects at the park's new retreat house along the Oregon coast.

Duration:

5 minutes, 52 seconds

Credit / Author:

Lewis and Clark Film Camp

Date created:

2010-11-19
Brain Tanning: A Way to Connect to our Past explains the ancient art through modern practitioners. 

Duration:

3 minutes, 34 seconds

Credit / Author:

Lewis and Clark Film Camp 2010

Date created:

2010-11-19
A Peek at the Early Days of Logging on the Netul River explores the largest historic log-rafting yard at the mouth of the Columbia through historic photos and video and the recollections of one employee.  The log raft yard is one of the park's most visible historic features.

Duration:

4 minutes, 27 seconds

Credit / Author:

Film Camp

Date created:

2010-11-18
AudioTour of Fort Clatsop
The Audio Tour of Fort Clatsop was written and produced by award winning sound designer Peter B. Lewis for the CarTours Foundation. The 50-minute audio program includes journal readings, sounds and music of the Corps of Discovery and voices of Clatsop and Chinook tribal members, descendants of the native people who helped the explorers make through the winter 200 years ago.

Material was also pulled from the "Trail of Discovery" series of audio programs exploring the Lewis and Clark story along the Columbia River, 1805 - 1806, which was produced by the CarTours Foundation in partnership with the National Park Service at Fort Clatsop (and is on sale in the bookshop at the Visitor Center).
Much of the music for the new audio tour was performed by Daniel Slosberg, well known along the Lewis and Clark Trail as Pierre Cruzatte, the one-eyed boatman and principal fiddler with the expedition. Many of the natural sounds used in the production were recorded within the Park for authenticity.
Credits:
Voice of Clark: John Luzader
Voice of Lewis: Bill Weldon
Voice of T. Jefferson: Bill Barker
Voice of Sergeants Gass and Ordway: James R. Kampmann
Clatsop: Richard Basch
Chinook: Peggy Disney and Tony Johnson
Jefferson's music by Rob Turner, Kevin Bushee, Lynanne Wilson; Recorded in the Dome Room at Jefferson's Rotunda at the Univ. of VA
Recorded and edited at AUDISEE Sound/Seattle
Journal quotes from The Journals of the L&C Expedition, Moulton, Gary. Nebraska Press
Oregon Public Broadcasting's Lewis & Clark Explorer Guides