Wetland Plants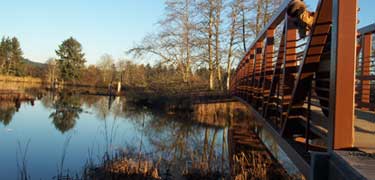 NPS Photo
The park protects valuable estuarine resources within the nationally significant Columbia River estuary. The 1979 National Wetlands Inventory identified 10 types of wetlands within Fort Clatsop: seven palustrine, two estuarine and one riverine. Wetlands comprise approximately half of the park's acreage and include the tidally-influenced Lewis and Clark River, low-gradient brackish sloughs, freshwater ponds and several freshwater streams and springs. In February of 1806 Meriwether Lewis described the region's wetlands: "The grasses of this neighbourhood are generally coarse harsh and sedge-like, growing in large tufts ... the salt marshes also produce a coarse grass, Bull rushes and the Cattail flagg." During the 19th and early 20th centuries estuarine shorelines were extensively diked and tidegated, converting former floodplains to agricultural lands.
A 1961 park restoration project returned a former pasture to a functional high tidal marsh populated by a diversity of estuarine plants including Lyngbye's sedge (Carex lyngbyei) and the uncommon narrowleaf cattail (Typha angustifolia). Two rare estuarine species, flowering-quillwort (Lilaea scilloides) and water-pimpernel (Samolus parviflorus), grow on the river's tidal mudflats and slough banks. The park also has several acres of willow shrub wetlands, a habitat type that has largely disappeared from the Columbia estuary during the last century. Species and hybrids of two beautiful native impatiens, jewelweed (Impatiens capensis) and spurless touchmenot (I. ecalcarata), occur in this habitat, the westernmost extent of a linear hybridization zone that extends for 30 miles along the lower Columbia River.
A permit is required in order to collect plants within the park.