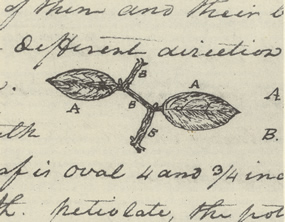 Lewis & Clark Journals
The Sitka spruce vegetation zone forms a narrow band along the northwest coast from northern California to southeastern Alaska. The mild, wet maritime climate and rich soils create ideal growth conditions for conifers, resulting in climax spruce-hemlock forests of magnificent size and lush biodiversity. Sitka spruce (Picea sitchensis) is the dominant conifer in the park's forests. Western hemlock (Tsuga heterophylla), western redcedar (Thuja plicata), Douglas fir (Pseudotsuga menziesii), red alder (Alnus rubra), cascara (Rhamnus frangula), red elderberry (Sambucus racemosa) and several willow species are the common subdominant trees. Salal (Gaultheria shallon), huckleberries (Vaccinium spp), seven fern species, and a large number of mosses, liverworts, and lichens share the forest understory.
In November of 1805 explorer William Clark wrote of the coastal forests, "Spruc Pine grow here to an emense Size & hight maney of them 7 & 8 feet through and upwards of 200 feet high ... I observed in maney places pine of 3 or 4 feet through growing on the bodies of large trees which had fallen down, and covered with moss." Logging removed most of the site's trees between 1850 and 1950. The park's older forests are slowly redeveloping characteristics of forest ecosystem health: multilayered canopies of diverse species and age classes, forest openings, standing dead snags and large decaying logs.