Traveling Trunks Program: Reservation Instructions
Fees-Zones-Shipping Dates
Lewis & Clark National Historical Park
Attn: Traveling Trunk Coordinator
92343 Fort Clatsop Rd
Astoria, OR 97103
FAX reservations to:
(503) 861-4428
Attention: Traveling Trunk Coordinator
Please allow a mimimum of 4 weeks to process your request. If you do not receive a confirmation letter within 2 weeks after your initial request, please contact the park to make sure your reservation request was received. You will receive a date assignment and payment information in the mail along with acceptance of date assignment form. Please be sure to return the acceptance of date assignment form and your payment no less than 14 days prior to your scheduled ship date in order to keep your reservation. If the park does not receive your payment or acceptance card within 2 weeks, your reservation will be considered to be canceled and given to the next school on the waiting list.
---
Rental Fees by Zone
Note: Borrowers are responsible for the cost of insured return shipping.
| | | |
| --- | --- | --- |
| $40 | WA, OR, ID | |
| $45 | NV, CA, MT, CO, WY, UT, AZ | |
| $55 | ND, SD, NE, NM, KS | |
| $60 | MN, WI, MI, IA, IL, MO, TX, AR, OK, LA, MS, AL, FL, GA, SC, NC, TN, VA, WV, IN, OH, PA, DC, MA, DE NY, NJ, CT, RI, VT, NH, ME, KY | |
| Actual Cost | AK, HI, US Territories | |
The first date listed is the date the trunk is shipped to you--not the date the trunk arrives at your school.
The last date is the date you ship the trunk back to the park at your expense or by prepaid return shipping.
Note: see "Rental Fees" for which zone you are in.
For summer reservations please contact the park for availability.
Shipping Dates
2014-2015 School Year
| | |
| --- | --- |
| Ship Out | Ship Back |
| September 15, 2014 | October 13, 2014 |
| October 27, 2014 | December 1, 2014 |
| December 29, 2014 | January 26, 2015 |
| February 17, 2015 | March 16, 2015 |
| March 30, 2015 | April 27, 2015 |
| May 11, 2015 | June 8, 2015 |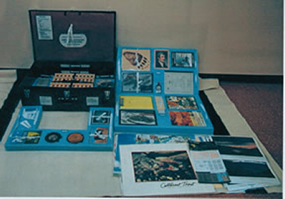 NPS Photo