History & Culture: Stories: A Monstrous Fish
NPS Photo
A "Monstrous Fish"
Two days after Christmas 1805, Clatsop Indians told the Corps of Discovery that a whale had washed ashore southwest of Fort Clatsop near a Tillamook village (modern day Ecola State Park.) Because of adverse weather conditions, Clark and other members of the Corps did not reach the whale until January 8. Sacagawea, who insisted on seeing "that monstrous fish" and the ocean, accompanied them.
By the time the party reached the beach, only the whale's bones remained. The Nehalem Indians who had gathered much of the whale's remains were reluctant to part with any of it, but Clark did manage to obtain approximately 300 pounds of blubber to add to the food supply and a few gallons of rendered oil. Lewis sampled the blubber and found it "not unlike the fat of Poark tho' the texture was more spongey and somewhat coarser. I had a part of it cooked and found it very pallitable and tender, it resembled the beaver or the dog in flavour."
Did You Know?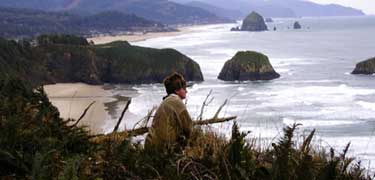 Lewis and Clark National and State Historical Parks are comprised of 1,824 acres in Washington and 1,421 acres in Oregon, with the two extremity sites being a two hour drive from each other.