Trunk Reservation Form
Choose which way you would like to send us your reservation:
Print the form and mail it to the park via the US Postal Service at: Lewis and Clark National Historical Park, Education Program, 92343 Fort Clatsop Road, Astoria, Oregon 97103.
Print the form and FAX it to: (503) 861-4428. Attention: Traveling Trunk Coordinator
You will receive a confirmation of your reservation within 3-5 weeks (by e-mail).
Scientific Discovery Resource Guide

See below for a peek at the Scientific Discovery Resource Guide and ordering information.

Lewis & Clark National Historical Park Guide

Click here to download a print-friendly pdf of our park guide [4.1 MB] Read More
Did You Know?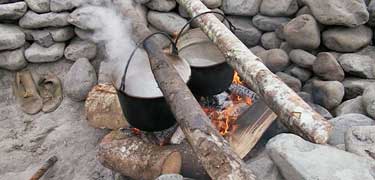 The area where the Saltmakers made camp is in present day Seaside, Oregon. Seaside is approximately 15 miles away from Fort Clatsop. It was the first place which provided firewood, rocks, fresh water, game animals and good neighbors.