Fort Activity Instructor Training
Purpose of the training? This workshop will prepare your adult volunteers to step into the role of the educator for a day. They will receive instruction in the basics of the Lewis and Clark Expedition and learn how to teach the four hands-on activities at the fort. The film, "A Clatsop Winter Story," and a brief tour of the park is included. These Fort Activity Instructors will then teach the hands-on activities to your school's students.
How Many Volunteers should you send to training? Each school is required to register a minimum of 5 volunteers for each reserved program day. This ensures that all schools will be able to send their volunteer instructors through training.
When should your volunteers come through training? Ideally 1-2 months prior to your trip. Groups visiting in the fall may register people for any fall training date. Groups visiting February or later may register people for any date occurring January or later.
Note: At least 30% of adult volunteers registered to attend this training do not show up. So, please make sure you have firm commitments, reliable people and extra volunteers ready to be trained so your program won't be canceled.
Returning Fort Activity Instructors:
If you are a returning school, you may utilize Fort Activity Instructors from previous years. These instructors do not have to attend a training class IF they were successful instructors during the last school year. Please let us know how many returning instructors you have on your reservation forms.
Workshop Dates
April 2, 2011
April 12, 2011
April 17, 2011
* Taught in conjunction with the teacher's workshops. Instructor Trainees, school volunteers and other chaperones may join for the full day if they wish. Adult volunteers who will join for the full day need to be registered for the Teacher's Workshop. Please indicate on their registration form that they are not teachers.
Other dates may be arranged by contacting the park's education registrar, Cathy Peterson, e-mail us or by calling (503)861-4422.
Please Note Class Time and Length: 12:20 to 4:00 p.m.
Cost: There is no cost for pre-registered trainees. Registered participants will receive a confirmation letter.
Max. Class Size: 8-24 participants. Subject to staff availability
Min. Class Size: 4 participants, sessions will be canceled if less than minimum
FAIT REGISTRATION (to be completed by teacher only)
If you have any questions about the education programs offered, please contact the park's education program by phone: (503) 861-4422. Or by email to Cathy Perterson, e-mail us
Scientific Discovery Resource Guide

See below for a peek at the Scientific Discovery Resource Guide and ordering information.

Lewis & Clark National Historical Park Guide

Click here to download a print-friendly pdf of our park guide [4.1 MB] Read More
Did You Know?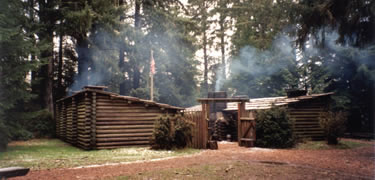 Sergeant Patrick Gass wrote that of the 106 days they were at Fort Clatsop it rained all but 12, and of the 12 dry days, only 6 were sunny.