Outdoor Camps
Survive and thrive in Nature!
Get outdoors at Nature Survival and Nature Adventure Camps

Kids can explore the woods, water and animals at camps this summer through Lewis and Clark National Historical Park. Educators from the Lower Columbia Estuary Partnership and the park will lead two weeklong camps, both featuring exciting overnight opportunities.

Nature Survival Camp, held July 21-25, 2014, takes campers on the water and to the woods, deep into the park and other sites, as they explore and practice skills to survive and thrive in nature, including a two-night camping trip at the beach. This camp is open to students entering seventh and eighth grades. Hours for Nature Survival Camp are 9 a.m. to 5 p.m. Monday & Tuesday, with a 9 a.m. drop-off on Wednesday and 11 a.m. pick up on Friday for the two-day camping trip at the beach. The cost is $145. Scholarships available. Nature Survival Camp Registration Form

Nature Adventure Camp, held July 14-18, offers a week's worth of adventures at the park and nearby, as well as an overnight in Fort Clatsop! Nature Adventure Camp is open to students entering fourth grade through sixth grade. Hours for Nature Adventure Camp are 9 a.m. to 5 p.m. Monday through Wednesday. For the Thursday overnight, drop off is at 9 a.m. Thursday and pickup is 11 a.m. Friday. The cost is $135. Scholarships available.
Nature Adventure Camp Registration Form

Scholarships are available. Camp Scholarship Application

Register now for both camps. Enrollment is limited. Questions? Please call Cathy at (503) 861-4422 or e-mail us
Did You Know?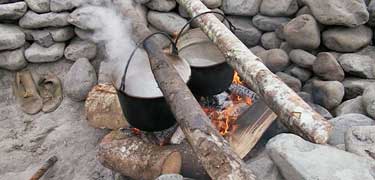 The area where the Saltmakers made camp is in present day Seaside, Oregon. Seaside is approximately 15 miles away from Fort Clatsop. It was the first place which provided firewood, rocks, fresh water, game animals and good neighbors.